[SatNews] Ka You Systems, a satellite services company based in Silver Spring, Maryland, has installed a state-of-the-art satellite uplink and downlink for KLAA-AM in Anaheim, California, a 24/7 sports station that broadcasts from the baseball stadium in Anaheim.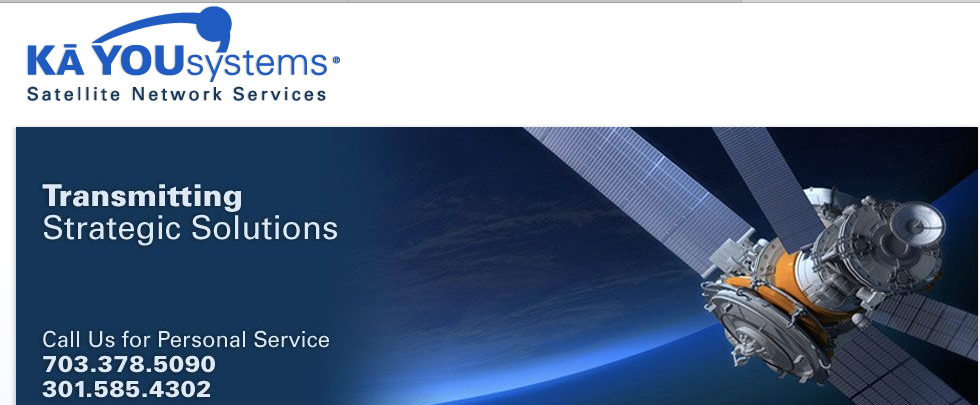 KLAA had outgrown its existing transmission system and decided it could no longer rely on a terrestrial solution to link its production studio at the stadium to its remote transmission site outside of Los Angeles.
Ka You Systems worked with the KLAA technical team to design a primary link between the studio and its transmitter site that uses the latest in satellite technology.
"KLAA went from using a T1 phone line to the latest in DVB satellite encoding," explains Ka You President Linda Gimourginas. "It was a quantum leap in technology, quality of broadcast and reliability.
"The advantage of satellite," she notes, "is that it's available anywhere, no matter how remote your receive site may be. Satellite is extremely reliable, too. Unlike terrestrial solutions, satellite has no points of failure outside of your control. You control the signal from the production facility and uplink to the downlink and receiver."
The installation of the satellite dish was not without its challenges, though. "We have set up systems all over the world," says Ka You Director of Technology Mark Johnson, "and each install we do is a little different. For this one, we were concerned about the strong Santa Ana winds."
The Ka You team used a non-penetrating roof mount (NPRM) to secure the dish and engineered the project to withstand 125-mph winds.
Ka You also used equipment it helped develop that is designed to overcome unusual operational issues. For example, it automatically adjusts to fades in power. Ka You also monitors the equipment remotely to provide 24/7 service.
"With over 3 million visitors to the stadium in Anaheim annually, we knew KLAA had to have a dependable solution," says Gimourginas. "We selected the best components and built an uplink tailored to KLAA's needs."
Ka You also trained the KLAA staff and will continue to provide support. "We've been there every step of the way to make sure KLAA has what it needs," says Johnson. "After the installation is done, we don't just go away. We monitor the equipment online, evaluate its performance and can troubleshoot any problems that may arise."
Ka You Systems, based in Silver Spring, Md., is a satellite services company providing reliable, cost-effective transmission solutions to commercial broadcasters, universities and government.