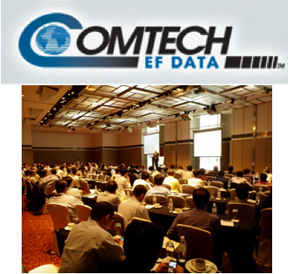 [SatNews] Comtech EF Data is planning two events in conjunction with CommunicAsia 2014 next month.
Users' Conference, Wednesday, June 18th
During the company's Users' Conference, three strategic Comtech EF Data customers will share with users how they are leveraging Comtech EF Data's product suite to meet the demands of a variety of new applications. The guest speakers will be representatives from major industry participants—O3b Networks, Telenor and Harris CapRock.

Breakfast Seminar, Thursday, June 19th
During the company's Breakfast Seminar, their perspectives will be shared on what lies ahead on the satellite industry horizon, which includes an array of spacecraft innovations through new High Throughput Satellite (HTS) designs. The company will provide insights into how Comtech EF Data continues to introduce innovative solutions to the market that allow service providers to challenge conventional approaches and offer differentiated services that meet communication needs of end users today and into the future.

Additional detail on the events is available on the event page, which is accessible at at this infopage link.
Register to attend these events at this infopage link.