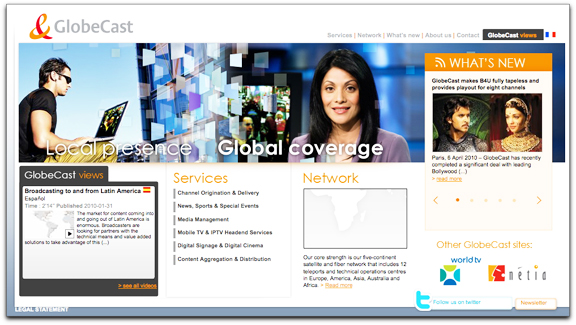 International news broadcaster FRANCE 24 has signed a three-year deal with GlobeCast to expand coverage of its English-language channel in the United States and Canada, using the Galaxy 23 satellite.
The satellite will give
FRANCE 24
access to thousands of cable headends throughout North America, including up to 90 percent of the American cable market.
Currently available in select television markets in the United States through
MhZ Worldview
, and on certain cable and DSL networks, FRANCE 24 is now in a position to expand its American audience to all fifty states. In Canada, FRANCE 24 has held
CRTC
licenses for digital broadcast of the English and French language channels since 2008 and will now consolidate its development across the country. GlobeCast will be providing FRANCE 24 in English with uplink from its Culver City (Los Angeles) teleport as well as space capacity and 24/7 monitoring.
GlobeCast has been the distribution partner of choice for FRANCE 24 since the channel's launch in 2006. This includes the delivery of multiple versions of the channel to Europe, the Middle East, Africa and the Americas. Featuring news and current events from a French perspective, the channel broadcasts in 3 languages (French, English and Arabic) and is owned by broadcasting group AEF.