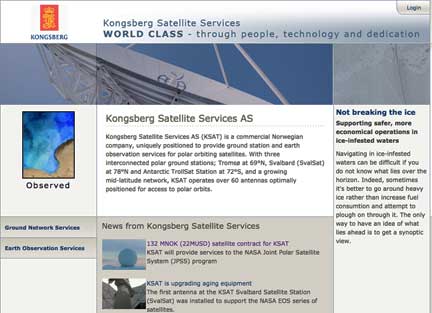 [SatNews] Kongsberg Satellite Services (KSAT) has been awarded a contract to provide...
...ground station services to serve the next generation of weather satellites developed by the National Space and Aeronautical and Space Administration (NASA), USA. KSAT will be using the company's ground stations in Svalbard, Norway, and in Antarctica to provide services to the the NASA satellites JPSS and NPP as well as to the Japanese satellite GCOM-W1. The Ground Stations will be operated from KSAT's main office in Tromsø. The contract is for five years of operation. The contract value is apprx. MNOK 132 (USD 22).
KSAT is a commercial satellite center owned 50 percent by KONGSBERG and 50 percent by the Department of Trade and Industry through the Norwegian Space Centre Property. KSAT is situated in Tromsø, Norway, with ground stations in Tromsø, Svalbard, Grimstad, Dubai, South Africa, Singapore, Mauritius and the Antarctic. KSAT is ideally located for TT&C, launch support, as well as data reception and near real-time Earth Observation services.