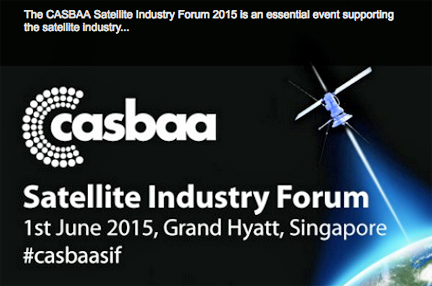 [SatNews] CASBAA returns to Singapore for its annual gathering exploring the latest developments and issues affecting the satellite industry in the Asia Pacific.
Taking place on June 1st at the Grand Hyatt Singapore, the CASBAA Satellite Industry Forum 2015 is a one day high-powered forum that will bring together a roster of industry experts to examine a variety of hot topics and to exchange key information critical to the development of the communications sector and related services across the Asia-Pacific. The conference continues to grow from strength to strength with an impressive lineup of speakers and a good mix of Asian and global players. Last year almost half of attendees came from the US and the Europe with most of the balance coming from Asia and Australia.
"Satellite services account for a large portion of how television signals are delivered to consumers in the region and is an integral component of the multichannel TV business in the Asia Pacific." said Christopher Slaughter, CEO, CASBAA. "The CASBAA Satellite Industry Forum is an extremely important event in our yearly calendar and this is reflected in an active Satellite Industry Committee and a number of satellite related companies that are CASBAA members".
This year's opening Keynote will be delivered by Houlin Zhao, Secretary-General of the ITU. "Zhao only took office in January this year so for many this will be the first opportunity for people to see him in this capacity", said Kevin Jennings, Program Director, CASBAA. In addition, CASBAA announced that Stephen Spengler, Chief Executive Officer of Intelsat, is delivering the Industry Keynote. Spengler is a satellite and telecommunications industry veteran with experience in the media, broadband, government and internet sectors and is a driving force behind Intelsat's next generation of satellite solutions.
Acknowledging the ever-evolving industry landscape, this year's theme asks "Is The Satellite Game Changing?" The agenda for this year's forum will touch upon the challenges the industry is facing as the very definition of television changes to embrace new technologies, delivery methods and consumer habits.
As well as speaking with game changers and new kids on the block, the forum will discuss whether high throughput satellites the answer to reducing costs for customers. Another panel session is provocatively titled "Staring the Future of TV in the Face – A Watershed for the Satellite Industry?"