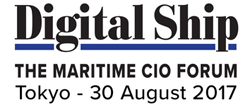 Shipping is waking up to a new era, where digitalization is creating increased opportunity for development and innovation. With this in mind, Digital Ship is heading back to Japan to hold the next in the event's series of Maritime CIO Forums, where the focus will be on how to drive these opportunities and how to address the challenges and questions these advances in technology are posing to our industry.
Through three key sessions, asked will be how the industry is responding to change and investigate what technology and digital transformation can do for the maritime industry. Three focused sessions will include plenary and panel discussions:
Session 1: The Maritime Satcom Summit Investigating the evolution of maritime mobility and connectivity
The ever-growing use of onboard applications and increased data flows — such as those used for maritime safety and protection, vessel tracking and performance analysis — means that the shipping sector requires ever more reliable data communications, even in remote locations. This opening session of the day will look at how innovation and evolution in maritime connectivity is changing the maritime landscape by improving operational agility, enhancing efficiency, creating a safer, more secure environment for passengers and crew alike, and above all reducing costs for the ship owner and manager.
Session 2: Harnessing Maritime Cyber Resilience
A look at maritime cyber security, safety and risk This expert led session will look at how the industry is reacting to the advent of increased cyber threats borne out of the growing use of cloud and IoT applications, the number of devices used, and larger ships but fewer crew - meaning even more reliance on automation and remote monitoring. The Forum will discuss what policies, guidelines and best practices are already in place, and how the industry can identify, quantify and mitigate cyber risk. We will also ask if there is a gulf between perception and reality, and what are the real business risks?
Session 3: The Big Data Revolution
How big data usage and management is expanding the boundaries of smart shipping – and how can we harness this disruptive influence to build a real business case and lasting legacy. Transformation, digitalization, disruptive influence, innovation. These words and phrases are being used more and more and being held up as the drivers of all change and development — not just in the maritime sector but across industry. But what do they mean, and what can they do for the shipping sector? As the maritime sector is on the cusp of dramatic change, how can all of this data be harnessed to build own businesses and make them smarter, safer, and more sustainable? What value can shipping companies take from the launch of collaborative platforms and ecosystems?
This event will be held on Wednesday, August 30, 2017, at the KAIUN Building in Tokyo.