[SatNews] This completely updated NSR study provides a comprehensive market analysis of the three major methods of UltraHD consumption via satellite — DTH, IPTV and Cable Distribution.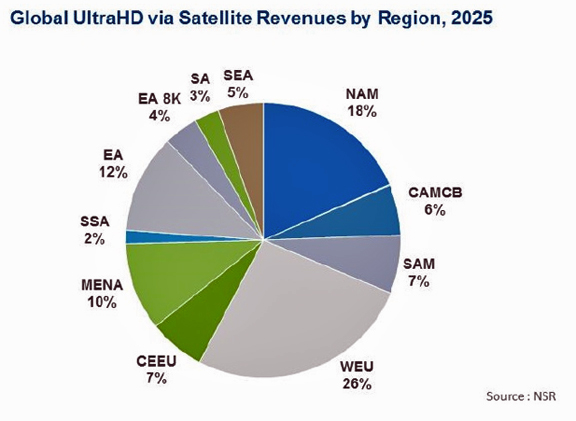 The report analyzes the market in terms of market viability, cost considerations, ecosystem development and end user adoption issues. Segmented regionally and including case studies of key markets, the report offers not only an overview of this new technology but also a thorough look forward at the future development of UltraHD. The report's findings are aimed at enabling satellite operators and service providers to plan accordingly so as to protect and enhance their current market position, as well as gain competitive ground by provisioning more attractive UltraHD channel packages.
This report answers the key questions concerning the UltraHD via satellite market:
How fast will UltraHD develop and where?
Which type of UltraHD (format and delivery method) will be most in demand over the next decade?
Which frequencies and solutions will be preferred over time?
What are the revenue prospects and capacity requirements?
The study is a valuable resource that:
Provides a roadmap to the satellite industry – providing historical context, current deployment status and future take-up of UltraHD
Offers an assessment of end user requirements and preferences
Analyzes the impact that UltraHD will have on current and future SD and HD demand
Critical assessments undertaken include:
Key issues and expected trends as well as how the outlook of the industry will evolve
The current-generation 4K and next-generation 8K UltraHD format
Dedicated case studies for key UltraHD markets
The report includes the following analytical elements:
Channel forecasts
Forecast by platform - Cable TV and Distribution (CATV and IPTV)
Capacity pricing movements & trends
Bandwidth requirements and compression
Demand trends & ten-year forecasts by platform, region, and frequency band
The detailed assessment of the UltraHD market relies on input from key vendors as well as NSR's longstanding, extensive body of work in the video markets and application segments. This provides a solid quantitative and qualitative basis from which a comprehensive analysis of trends and market forecasts can be drawn.
For further information, please visit