A salute to the new member of Silent Falcon's team who has credentials from Harvard and Yale as well as military experience in three branches that took him below water as a Navy diver and in the sky as an Army parachutist as well serving in the U.S. Marine Corps Infantry Officer in 3rd Battalion 9th Marines and Platoon Commander in the 1st Reconnaissance Battalion.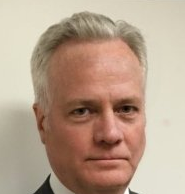 Silent Falcon UAS Technologies announces James McBurney as the addition of a new executive to the Silent Falcon team.
James McBurney joins Silent Falcon UAS Technologies as Chief Operating Officer after a career in finance and private equity and with executive experience with early stage energy and technology companies.
During his career, Jim worked at Goldman Sachs, Merrill Lynch and Bank of America in New York and London, in the M&A, Energy & Power and Natural Resource groups. He served as CEO of JNR (UK) Limited, a Rothschild family-owned merchant bank with a primary focus on natural resources in the Former Soviet Union and as CEO of HCF International Advisers Limited, a financing and advisory boutique focused on the mining and steel sectors.
Jim was CEO of a Russian-based gold mining company and more recently worked with a U.S.-based LNG development company and hydrogen-based fuels business.
Prior to completing his MBA at Harvard Business School, Jim served for five years in the U.S. Marine Corps as an Infantry Officer in 3rd Battalion 9th Marines and as a platoon commander in 1st Reconnaissance Battalion. Jim received a BA from Yale University.
John Brown, Silent Falcon UAS Technologies President and CEO stated that the board and he are pleased to have Jim join their team at Silent Falcon as they continue to grow the company and take advantage of the significant opportunities in their sector.