[SatNews] The opportunity is now to recognize the leader who helped you get to where you are today via the 2015 Mentor Award.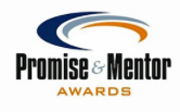 At the 2015 Future Leaders Dinner on November 10 in New York City, the Mentor Award will be given to a satellite executive who has fostered young talent, both within his or her organization and throughout the industry, and also has volunteered time and energy in support of the industry. Also at the event, three young satellite professionals will receive a Promise Award for demonstrating initiative, creativity, and problem-solving skills that made a positive impact on their company's performance. Also, Who will the honorees be?
That's where you come in. The individual you nominate could be the one selected as a 2015 Promise Award or Mentor Award Recipient!
To download the Promise Award nomination form, click here.
To download the Mentor Award Nomination form, click here.
Submit your nominations now!

The SSPI Future Leaders Dinner will take place on November 10 in New York City, the night before NAB CCW, featuring SATCON. For more information, select this link.