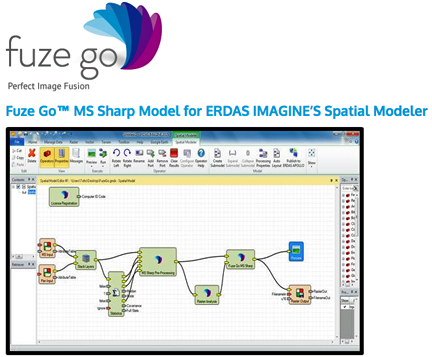 [Satnews] Scene Sharp USA has named Geocarto International Centre Limited of Hong Kong as the first Reseller of Fuze Go MS Sharp Model, an add-on to the IMAGINE Spatial Modeler.

Within ERDAS IMAGINE®, the IMAGINE Spatial Modeler provides tools for creating geospatial workflows, called analytical recipes, to extract information from raster imagery. Now users can also build analytical scripts that leverage the Fuze Go MS Sharp image fusion capability within the IMAGINE Spatial Modeler. Geocarto International Centre Ltd. will also serve as a distributor for the two stand-alone Scene Sharp image fusion tools – Fuze Go MS Sharp and Fuze Go SAR Sharp.

The Fuze Go tools are known for their superior fusion of satellite image data sets, which means better visual quality and an opportunity for better analytics. Fuze Go MS Sharp merges multispectral with panchromatic electro-optical (EO) data sets (known as pansharpening), while Fuze Go SAR Sharp fuses Synthetic Aperture Radar (SAR) data with EO multispectral imagery, creating a common operating environment which SAR experts and novices can both understand.

Scene Sharp worked closely with Hexagon Geospatial to develop the Fuze Go MS Sharp Model product by integrating MS Sharp functionality into the IMAGINE Spatial Modeler environment. The ability to merge satellite image data sets while focusing on accuracy generates hybrid images with unparalleled visual quality, sharpness and fidelity. In addition, Fuze Go MS Sharp can consistently and accurately pansharpen up to 30 bands of image data at up to five times the fusion speed of other comparable software tools.