[SatNews] VeriSat has launched SatGuard, a unique tool with patent-pending technology for identifying the source of adjacent satellite interference (ASI) and cross-polar interference (XPOL) caused by VSAT terminals.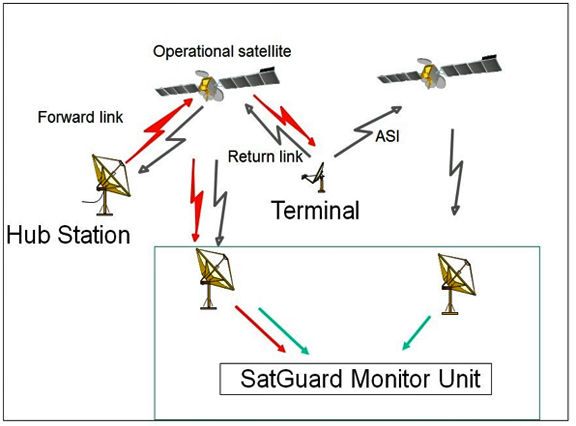 By determining the ID of the specific terminals causing interference, the VSAT network operator can be informed to shut down the unwanted transmission. VeriSat has worked closely with SES to develop this tool to combat ASI and XPOL interference caused by VSAT terminals. SatGuard uses software radio technology and off-the-shelf hardware to capture and analyze the signals from the operational and interfered links. The system finds the terminal ID from the signaling information in the operational satellite links and correlates this information with the bursts detected in the interfered signal. This information can then be sent to the VSAT Network operator where the necessary actions to stop the interference can be performed. SatGuard will enable satellite operators to measure the level of ASI and XPOL interference for each individual terminal, even when such interference is masked by other services.
VeriSat, together with SES, has conducted a series of successful tests on a live network to find the terminal IDs of interfering terminals. Tests show that interference levels as low as -10 dB SNR can be measured, corresponding to a level where the interference is no longer an operational problem. The technology will be enhanced in the coming months and will allow nominal interference levels to be monitored for terminal line-up and commissioning applications.
"Interference issues caused by VSAT MF-TDMA systems are often time-consuming and complicated to resolve," said Chris Grogan, Senior Vice President of Customer Services Delivery at SES. "It was apparent that we needed a method of making that process more efficient and we started a dialogue with VeriSat earlier this year to find a solution. We are extremely pleased with the outcome."
"According to our statistics, VSAT systems cause approximately 40 percent of all interference, and are responsible for 50 percent of downtime due to interference," commented Martin Coleman, Executive Director, the Satellite Interference Reduction Group. "This development from VeriSat is extremely significant for VSAT interference, an area which is particularly difficult to solve."
"We have launched SatGuard to help satellite operators such as SES to determine the interference source in a matter of minutes, commented Petter Amundsen, CEO, VeriSat. "This is a revolution for combating VSAT terminal interference. It also allows continuous proactive monitoring of the interference levels, a new concept for VSAT interference management."
Please contact mail@verisat.no to request a live demo. VeriSat will also be exhibiting at Satellite 2015 Conference and Exhibition in Washington, from March 16 to 19, 2015.
For additional details, please visit the VeriSat infosite at http://www.verisat.no/