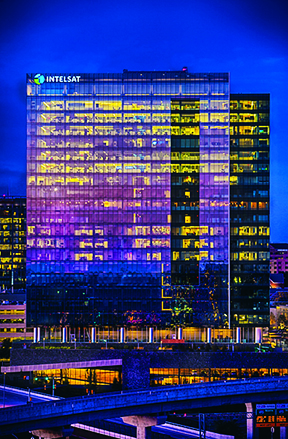 Journalist Chris Forrester of Advanced TV has reported that Intelsat's CEO Stephen Spengler, in announcing the company's Q3 results, said that since July 1st, Intelsat had restructured $4.2 billions-worth of capital restructuring and, in the process, improved the company's overall borrowings.
Intelsat's revenue picture is complicated by this year's shift to the USA's new revenue recognition rules (which translated from a reported $536.9 million to $511.9 million under the new rules). The new rules are the Financial Accounting Standards Board Accounting Standards Codification Topic 606, Revenue from Contracts with Customers ("ASC 606").
It also seems that Intelsat is having a tidying up of its accounts, and reported a batch of extraordinary losses including $204.1 million on the early retirement of debt, and a further $107.9 million for the provision of income taxes in an internal reorganization/restructuring of its subsidiaries.
As at September 30th its contracted backlog stood at $8.4 billion (or $7.3 billion "excluding the effects of the new rules").
Spengler specifically referred to the C-band restructuring and said, "The Comment Phase of the U.S. Federal Communications Commission C-band proceeding ended yesterday, a major milestone as we continue to advance our proposal. The formation of the C-Band Alliance, announced earlier this month, demonstrates that the continental US C-band satellite operators are in full agreement on the technical and operational steps necessary to clear 200 MHz of spectrum over the course of the next 18 to 36 months. We will continue to advocate for our breakthrough, market-based approach that is the best path to protecting incumbents while repurposing spectrum that will accelerate 5G deployment and innovation in the U.S."
Drilling down into Intelsat's specific divisions, Spengler reported that Network Services revenues had fallen 6 percent to $199 million during the quarter. Media revenues were $233.1 million, a fall of 2 percent. The one bright revenue line were Government Services, which had grown an impressive 18 percent to $98.4 million y-o-y, and indicating that the U.S. government had again started spending on satellite communications.
Intelsat's all-important 'fill rate' remains a healthy 79 percent (compared to 80 percent on June 30th of 2018).