[SatNews] The concept of "coopertition", or cooperative competition, has long been an element...
...of many different industrial sectors and certainly not a trend unknown in the satellite industry. While NSR has long predicted an increase in partnerships and cooperative deals between FSS operators as an alternative to outright consolidation in the industry, a recent string of deals in Asia underscores this trend.
One of the interesting issues driving increased cooperation, as pointed out during the Asia session recently moderated by NSR at Satellite 2012, is that simple physics of frequency allocation is driving operators to reach deals together. The crowding of the frequency bands in much of the orbital arc, especially in Ku-band, has made it very difficult for any single operator to develop a new "clean" slot. This is especially true of small- to mid-sized as well as new FSS operators that might not have the "storehouse" of orbital filings that older and larger FSS operators typically have.
Another issue is that small- to mid-sized operators would like to enjoy some of the benefits that come from the economies of scale enjoyed by larger operators. These types of cooperative agreements will aid the bottom line for the small- to mid-sized operators without the conundrum of how to grow large enough to benefit from deals normally reserved for the top four biggest operators.
Finally, the typical new satellite business case often is comprised of three key elements: access to a slot/frequencies, availability of a satellite (or financing for one), and a relationship with a key client (or clients). In the increasingly competitive satellite industry, it is becoming more and more challenging to pull together these three elements in a timely manner, thereby opening up avenues for growth for individual operators. Again, coopertition can benefit two partners in a deal where combined they are able to bring together all three elements and thereby successfully launch a new satellite. Whereas individually they may have lacked one or more of the critical pieces of the business plan, joining together in cooperation to launch a new satellite allows growth for both even if it means they compete in other areas.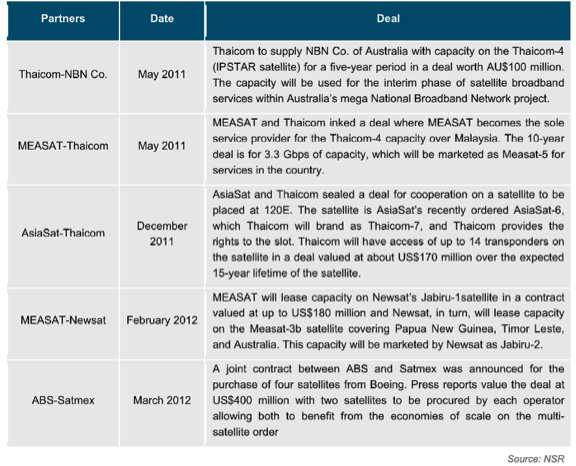 Looking at the bottom line, every FSS operator is seeking to grow their business, and key to that is increasing their supply of commercialized satellite capacity. In the past, that meant launching more and larger satellites to both meet expanding demand for satellite services and to nurture the emergence of new markets and applications. However, the severe crowding of the GEO orbital arc combined with the political/financial hurdles that the industry faces that block consolidation implies that the best opportunities these days for expansion are often through partnerships, especially for the small- to mid-sized operators.
While Asia has certainly led the way in the last 12 months, partnerships are by no means limited to this region with other examples existing in the Middle East, Eastern Europe and elsewhere. NSR fully expects that the number of alliances and deals will accelerate in the coming years to form a regular feature of the industry. "Coopertition" will become an ever more dominant element of the FSS sector, and those who best succeeding at artfully merging the elements of "cooperation" and "competition" will likely become the industry leaders of tomorrow. (Source: Patrick French, Senior Analyst, NSR Singapore—NSR homepage link)