Goodrich space products and capabilities will be on display on stand 614 at the National Space Symposium in Colorado Springs, Colorado, from April 12-14, 2010.
Experts will be available from company sites in Danbury, Connecticut., Albuquerque, New Mexio, and Ithaca, New York.
As
Goodrich Corporation
(NYSE: GR) began celebrating its 50th year of working in advanced space programs last year, the company's
ISR Systems
business has continued its work to better both the U.S.'s defense and mankind's knowledge of the origins of other worlds. Goodrich's space highlights from the 50th anniversary year, starting mid-2009 to the current date, include:
Continued development of its advanced power system for NASA's new James Webb Space Telescope; the power system uses solar arrays to charge lithium ion batteries that power the telescope. The Goodrich power system is the first to incorporate autonomous peak power tracking regulators whereby advanced control algorithms squeeze every possible watt from the solar array into the batteries through varying temperature and light conditions, without use of the spacecraft's computer. This design allows for a very efficient power system in an extreme operating environment


Completion of critical design review for its ORS-1 satellite for the U.S. Department of Defense's Operationally Responsive Space program in a short eight-month period from receipt of the contract, and supporting the program to remain on track for launch later this year


Continued mission success from its vehicle performance data measurement systems and flight control avionics on the Evolved Expendable Launch Vehicle (EELV), a program to provide launch vehicles for military satellites, with 24 total launches to date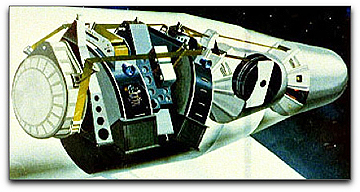 The company began its journey into space on June 25, 1959, when the world's first space-borne
intelligence, surveillance and reconnaissance
(
ISR
) satellite was launched on the then-classified
Corona
program with a Goodrich ISR Systems payload. Since that time, Goodrich has continuously provided sophisticated, high-reliability systems to various missions including programs such as the
Hubble Space Telescope
and the
Chandra X-Ray Telescope
. Other current contracts include support to
GPS III
,
SBIRS-High
, and Japan's
ASNARO
satellite.