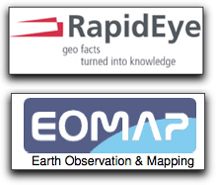 RapidEye has supplied the German company EOMAP GmbH & Co. KG (Earth Observation and Mapping) with satellite imagery to support mapping services for oil spill monitoring in Australia.
EOMAP
creates solutions to produce standardized map products from Earth Observation data and incorporated
RapidEye
data into their mapping of the ecological disaster of an oil spill near the coast of western Australia in September this year. The incident occurred in early August when oil, gas and condensate started seeping into the Timor Sea near Darwin in western Australia. The spill covered several thousand square kilometers with approximately 400 barrels leaking daily. The spill threatened the commercially important fish stocks, the marine ecosystem and coral colonies on the western Australian coastline.  "By using RapidEye high resolution satellite imagery in addition to imagery from other sensors such as MODIS and MERIS, we enhanced the chance to obtain cloud-free, high quality images for the detection of oil spills. RapidEye data is extremely valuable to emergency response management, as their system is capable of reaching any point on Earth within a day and allows for frequent revisits," stated Dr.
Thomas Heege
, Managing Director of EOMAP GmbH & Co. KG.