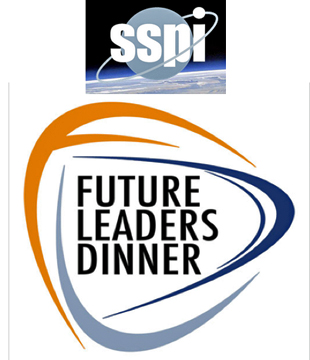 The 11th annual SSPI Future Leaders Dinner will take place on the first night of the 2016 NAB New York Show, Wednesday, November 9th, at The Penn Club in New York City and tickets are on sale now.
At the Future Leaders Dinner, three young satellite professionals—Dr. Jennifer Dawson, Space Systems Loral, Pascale Dumit, SES, and Erin Feller, Boeing Network & Space Systems—will receive a Promise Award for demonstrating initiative, creativity, and problem-solving skills that made a positive impact on their company's performance. At the same dinner, the Mentor Award will be given to a satellite executive—David Myers, President and CEO of DataPath—who has fostered young talent, both within his organization and throughout the industry, and also has volunteered time and energy in support of the industry. Come celebrate with them.
Also at the dinner, Satnews Publishers is providing a magnum of wine to be raffled off from Siesta Estate Wines, Sonoma, California. Raffle tickets will be distributed to registered guests at the door. There is no additional purchase necessary—all dinner guests are automatically entered for this raffle.
On the day after the dinner at 11:30 a.m., the Promise Award Winners will be featured in the SATCON Keynote: Pathways to the Future - A Dialogue Between Today's Industry Leaders and the Promise of the Future. The keynote will give them and SATCON attendees an opportunity to share their ideas, questions, and their vision of the future with Mark Spiwak, the President of Boeing Commercial Satellite Systems.
To learn more and to purchase your tickets for this event, please access this direct link...