The Space Generation Advisory Council (SGAC) of the United Nations is organizing the first African Regional Space Generation Workshop.
The African Space Generation Workshop (AF-SGW) is a two-day regional workshop for students and young professionals in the African region. The 1st AF-SGW will be held from November 17 to 18, 2017, in Akure City, Nigeria. This event will be hosted by the Centre for Space Research and Applications, Federal University of Technology, Akure.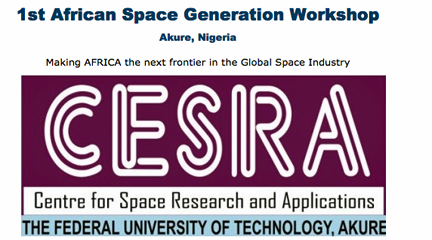 The workshop will have as many as 100 African delegates and the event is focused on university students (BSc, MSc, PhD students) and young professionals who are working in the African space sector. The discussions are expected to produce recommendations to relevant public, private and nongovernmental stakeholders and will help to shape and provide insight into the future of the African space sector. Furthermore, reports from the projects will be presented at conferences and included in the SGAC annual report submitted to the United Nations Committee on the Peaceful Uses of Outer Space (UN COPUOS).
Additional information is available at this direct link...