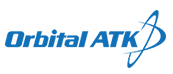 Orbital ATK (NYSE: OA) and its SpaceLogistics subsidiary are bringing a plethora of their satellites, space launch, propulsion and logistics technologies to Satellite 2018 including an announcement about the industry's next generation in-orbit satellite servicing platform, known as the Mission Extension Vehicle (MEV)™. Orbital ATK , a provider of aerospace and defense technologies, will be at Booth 1209 in exhibit halls B/C.
The Orbital ATK booth will also include the company's space launch vehicles and propulsion systems. The launch vehicles include Orbital ATK's current Antares, Minotaur and Pegasus vehicles, all of which use commercially available propulsion, and the new Next Generation Launch System currently in development, which is on schedule to achieve initial launch capability in early 2021.
The satellite systems on display at the exhibit include Orbital ATK's GEOStar™ communications satellite platform as well as the company's medium-, small- and microsatellite-class systems primarily used in low-Earth orbit (LEO). The company will also feature small national security satellite systems such as ESPAStar™ and ESPASat™.
In addition, the booth will highlight the company's enhanced Cygnus™ spacecraft, which is targeted to carry crew supplies, equipment and scientific experiments to the International Space Station on its next mission this spring.
Orbital ATK President and Chief Executive Officer David W. Thompson and SpaceLogistics President Tom Wilson are scheduled to announce the company's newest robotic satellite servicing vehicle at a general session titled,"Reuse, Revitalize, Repurpose – How In-Orbit Satellite Servicing is Changing the Economics of Space" on Tuesday, March 13 at 2 p.m. Joining them is Stephen Spengler, Chief Executive Officer of Intelsat, who will share from his perspective, the customer's impressions of the first two Mission Extension Vehicles now in production.
Orbital ATK Space Systems Group President Frank Culbertson will participate in another panel discussion at the conference titled, "Satellite Manufacturers: Building for an Increasingly Interconnected World" on Wednesday, March 14 at 8 a.m.
Also on display are products that showcase Orbital ATK as a leading supplier of spacecraft components on domestic and international platforms. Those products include bus structures, antenna reflectors, solar array systems, space thermal hardware, deployables and propulsion tanks.
Visitors to the Orbital ATK exhibit will have the opportunity to learn more about all of the company's advanced, flight-proven product lines through animated videos, fact sheets and product models. Additionally, Orbital ATK subject matter experts will be available to answer questions and provide additional information.
About Orbital ATK