Thuraya Telecommunications Company and ELSE SA, a new space startup in Switzerland, have signed a memorandum of understanding (MoU) that paves the way for a strategic alliance between the two organizations.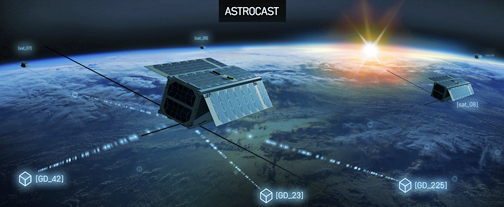 The agreement will allow the companies to collaborate and benefit from their individual capabilities on multiple fronts, including technical, regulatory and sales and marketing. From a commercial perspective, the agreement between Thuraya and ELSE extends their product and service portfolios considerably besides facilitating expedited access to the market.
The ELSE team has supported more than ten European Space Agency (ESA) missions, seven smallsat missions and is building a network of LEO smallsats named Astrocast that will provide cost effective IoT and M2M services to global enterprises. This mission is also supported by ESA through their ARTES program.

The first satellites are scheduled for launch by 2018, as a demonstration mission, with a plan to have a total of 64 satellites in orbit by 2021. Once fully operational, the constellation will provide remote monitoring, geolocation services, predictive maintenance and intelligent data gathering. The full scope of markets that will benefit from these capabilities will include retail, agriculture, automotive, utilities, maritime; oil and gas among others.

Thuraya's Chief Strategy Officer, Jassem Nasser, indicated that this agreement forms the foundation of an extensive framework and an exciting long term collaboration towards providing a progressive platform for the firm's partners to offer services beyond basic satellite connectivity. FUTURA, Thuraya's future plan, encompasses three main pillars, one of which is "New Wave" services for M2M and IoT applications. This alliance with ELSE serves as a building block for the development of this component of FUTURA and further reaffirms the company's commitment in building value through partnerships.

Commenting on the agreement, Fabien Jordan, co-founder and CEO of ELSE added that as an established company, Thuraya brings experience, skill and reputable legacy to the table and ELSE will benefit greatly from their technology and distribution reach.