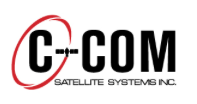 This week in Huston, from December 6-7, Oilcomm will be hosting a conference and exhibition.
Here C-COM which will be exhibiting at booth 216, their fully motorized iNetVu® FLY-981 (Ku-band Flyaway) and iNetVu® Ka-98H/Jup (Ka-band Driveaway) at Oilcomm in Houston .
Described as 'robust and highly advanced', these auto-deploy antennas enable the user to transmit and receive Broadband Internet via satellite with, the press of a button.
The iNetVu® systems are used worldwide in many critical applications like broadcasting, oil & gas exploration, emergency response & disaster recovery.

iNetVu® Vehicle Mounts, Transportables, and Fixed Motorized Antennas are available in Ka-band, Ku-band, C-band and X-band, ranging in size from 75cm to 2.4m, and are designed to perform in the harshest of environments for your company's critical communication requirements.
C-COM Satellite Systems, designer and manufacturer of Comm-on-the-Pause (COTP) mobile antennas (iNetVu®), has 8,000 systems sold in 100 countries. C-COM is also currently nearing production of mechanically steerable, Ka-band Comm-on-the-Move (COTM) mobile antennas. The company is also in early stage development of a unique, electronically steerable Ka-band flat panel antenna system that is modular, conforming and low cost.
C-COM will be displaying theses items at booth 216.