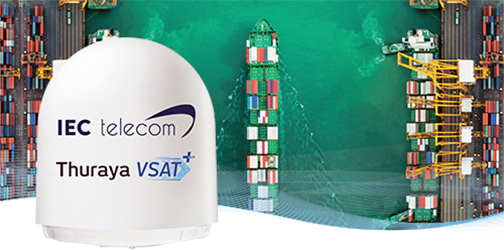 IEC Telecom is bringing flexible and cost-effective, high speed connectivity to the fast-growing Asian offshore market using Thuraya's VSAT+ service — the company launched this service in response to growing demand for reliable, higher bandwidth solutions to meet the needs of the offshore oil and gas sector.

Available for the first time in this region, Thuraya VSAT+ is a comprehensive maritime communications platform for vessel management and crew welfare needs, providing quasi-global coverage for a wide range of vessels and offshore operators. A wealth of value-added services from IEC Telecom enhance this package, while competitive tariffs, flexible contracts and IEC Telecom's back-up services provide the perfect solution for the offshore support sector or for short-term projects.
Thuraya VSAT+ combines the high throughput of Ku bandwidth (up to 4 megabits per second) with the resilience of L-band to provide a fast and secure high bandwidth with a resilient back-up.
In addition, IEC Telecom has developed its own One Gate Solution to provide first-rate cyber security while allowing ease of control of VSAT+ assets. One Gate allows easy internet access for crew members and contractors and helps to maximize workflows while maintaining the highest levels of security.
For offshore companies, IEC Telecom's Thuraya VSAT+ service provides traffic optimization for a better user experience and flexible tariff plans with no yearly lock-in commitment. The company provides the same flexible contracts for its global coverage maritime sector services, as well.
Launching the IEC Telecom Thuraya VSAT+ service to the Asian market during the recent Sea Asia 2019 event, Nabil Ben Soussia, VP, Maritime, at IEC Telecom, noted that recognizing the need for a flexible, high speed solution for the growing offshore sector, the company has worked side-by-side with Thuraya to develop this product tailored for offshore companies. The product has been well-received in the Middle East and IEC Telecom is now delighted to bring this solution to Asia as it offers a real alternative and will transform satellite communications provision for offshore customers.
Kenny Koh, Managing Director at IEC Telecom Singapore, further explained that through this partnership, the company is confident that this service will further enable the digital oil and gas revolution. Telecommunications of this level, with unique tariffs and back-up solutions, enable operators to save money by reducing operational costs, through the ability to undertake tasks online such as logistics and maintenance, while also being able to provide crew welfare services such as remote training, telemedicine and internet/messaging abilities.
Nadeem Khan, Director, Maritime M2M & IoT, at Thuraya, added that by appointing a highly experienced, capable partner with wide geographical reach as this Master Distributor for VSAT+, Thuraya is simplifying the proposition for resellers to offer high-quality services with no investment in the infrastructure. This is a win-win partnership founded on creating new opportunities for the maritime industry.
---
Additionally, IEC Telecom launched their Orion Edge+ satellite voice and data communication solution during the recently held Sea Asia event.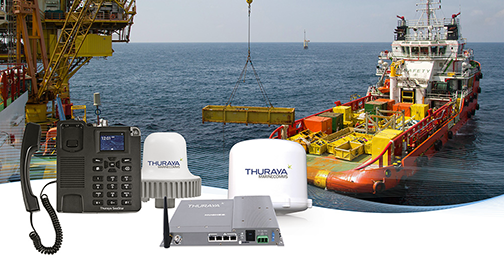 Orion Edge+ provides high quality, reliable broadband with the ultimate cost effective operational benefits. It also provides flexible data plans with no long-term commitment. This flexibility makes Orion Edge+ ideal for busy offshore support vessels, tugs, and oil and gas contractors.
Powered by Thuraya's Orion IP broadband and Thuraya's Seastar circuit switched voice terminal, the Orion Edge+ solution offers high quality voice and data services bundled with consumption monitoring tools and controlled welfare applications – all regardless of vessel size.
Orion Edge+ is available through monthly plans with no long-term contractual commitments. Specialized hardware offered by IEC Telecom keeps upfront costs low and provides full visibility for management control, both onboard and onshore. Orion Edge+ is equipped with Wan Optimizer, enabling TCP acceleration and bandwidth optimization.
Crew welfare needs are enhanced by local WiFi management which enables vessel and offshore platform managers to provide crew with access to social media platforms and the internet, with safety maintained by high level security systems. Access is granted via an advanced captive portal and consumption can be managed via vouchers or scratch cards for crew members. Thanks to IEC Telecom's integrated solutions, this is possible even for small vessels that cannot accommodate a VSAT antenna.
Nabil Ben Soussia, VP, Maritime at IEC Telecom, said that this is a brand new, optimized voice and data solution, engineered by IEC Telecom and powered by Thuraya Telecommunications, that enables small boats to enjoy the high bandwidth that was previously available only to VSAT users. This game changer is designed to meet the requirements of short-term projects with flexible data plans, no long-term commitment, and zero upfront cost.
IEC Telecom also recently entered into a win-win partnership with Thuraya Telecommunications to commercially offer Thuraya VSAT+ across Europe, Asia-Pacific (APAC) and Middle East and Africa (MEA). This innovative solution ensures optimum flexibility of satellite service and is scalable to meet global and regional needs for essential communications such as voice calls, email and position reporting, and for high-bandwidth requirements.