Advantech has launched a series of VSAT routers for numerous applications including professional cellular and telecom, mobility and military-grade.
The Advantech Satellite Networks ASAT II System Ultimate Series VSATs are specifically designed for professional, telecomm, defense, government and military satellite connectivity needs. The VSATs are offered as either rack-mountable or outdoor ruggedized options for easy deployment in a variety of applications.
Ultimate Series VSAT Routers — Telecom Workhorse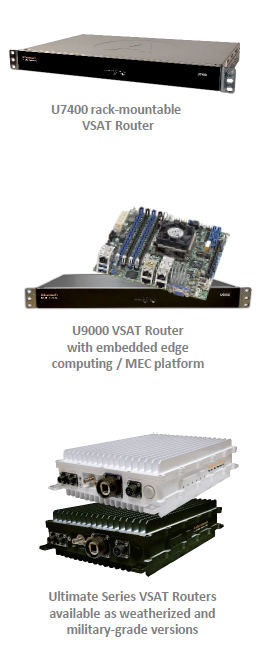 The U7400 is designed to meet most demanding telecom and professional needs. Available for deployment in various environments:
Indoor 19" rack-mountable
Weatherized outdoor
Military grade outdoor
The VSAT Routers provide built-in PEP (Performance Enhancing Proxy) providing transparent user experience acceleration as well as optimizing and compressing to conserve satellite bandwidth usage. The Advantech Satellite Networks PEP engine optimizes the link in both point-to-point SCPC deployments and in hub-spoke mode.
The VSAT Routers feature strong security features including government-grade encryption (in supported models), VLAN and IPSec VPN support.
Ultimate Series VSATs support ASAT II™ RCSX™ Return Link and WaveSwitch™ 3-waveform - RCS MF-TDMA, ASCPC™ and SCPC – seamless adaptation, makes them highly suitable for high-end applications usage such as:
Video contribution
Security and surveillance
High volume IP trunking
Critical communications backup links
Cellular backhaul
Real-time waveform switching provides real savings for applications seeing drastic traffic density changes such as cellular backhaul and trunk.
Ultimate Series VSATs support both point-to-point SCPC connectivity as well as hub-spoke RCS MF-TDMA, ASCPC™ and SCPC including optional mesh overlay connectivity, with built-in support for mobility and maritime OpenAMIP antenna integration.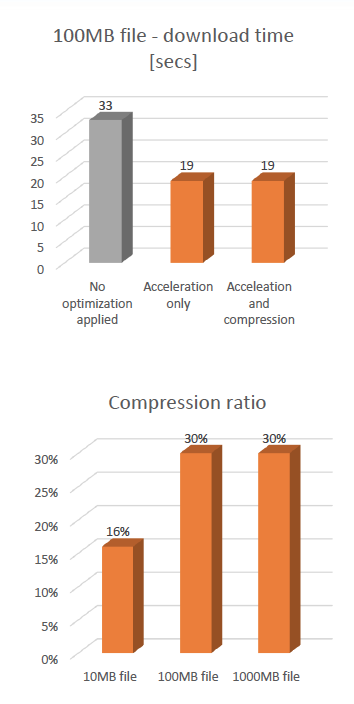 U7400 for the Cellular Industry
U7400-C4 and C2 models are made specifically for cellular backhaul applications:
U7400-C4 with built-in optimization for IP 3G and 4G / LTE backhaul
U7400-C2 with built-in backhaul optimization for 2G / 3G base stations that uses E1 interfaces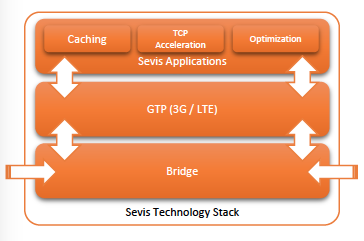 Advantech Satellite Networks has partnered with Sevis Systems to integrate Sevis Systems technologies for 2G, 3G and 4G / LTE as part of the ASAT System VSAT Routers and hub. Sevis' 2G, 3G and 4G / LTE optimization logic is at the center of Advantech Wireless ASAT II cellular backhaul solution, providing savings, scalability and flexibility.
IP service providers and mobile operators will appreciate the ROI savings in backhaul OPEX while establishing a software-defined network (SDN) architecture including future migration to LTE backhaul services or traffic offload.
The U7400 cellular backhaul models integrate technologies from Sevis Systems, drastically compressing voice traffic, enhancing data connections through use of cache and accelerating of TCP/IP and overall compression and optimization providing satellite backhaul bandwidth savings of 30 percent and more, while providing 30x improvement in user experience.
Alongside the U7400 rack mountable IDO, the WU7400-C4 provides all-outdoor solution specifically suitable for 3G / 4G / LTE small cells or microcells.
U9000 - Era of Open Edge Computing
The U9000 VSAT Router provides telecom operators, MNOs and service providers the infrastructure for delivering smart and cost effective applications and processing to the edge. The U9000 is equipped with server PC based on latest Intel™ processors family optimized for performance and power efficiency. The server allows operator tailor any application or deployment, including:
Open-RAN MEC Applications
Running open-RAN MEC platform (Multi-access Edge Computing / Mobile Edge Computing) applications – allowing MNO to offload processing from core to the network edge and drive content nearer to end users while maintaining full core compatibility and support including authentication authorization and accounting. MEC allows MNOs to provide their users with superior quality of experience.
There are many more products to serve a vast range of services when you open and download the data sheet link.