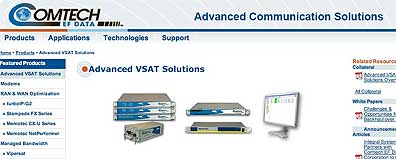 [SatNews] No need to have intermittent connectivity anymore while at sea.
Comtech EF Data Corporation and Intellian Technologies announced today the successful technology integration of the v-Series antennas and the ROSS Open Antenna Management (ROAM) protocol. 
The integration will enable the satellite VSAT antenna systems on maritime vessels to globally roam across multiple satellite beams, maintaining connectivity moving through different satellite footprints and enhancing communication capabilities at sea.
The ROAM protocol offers a common management interface for Comtech EF Data's Roaming Oceanic Satellite Server (ROSS) and third-party Antenna Control Units (ACUs) by providing a generic set of commands, information, interfaces and status queries.  ROSS is an integrated location server that works in conjunction with Comtech EF Data's Vipersat Management System to facilitate on-the-move satellite communications for oceanic vessels.
ROSS enables remote modems to interface with stabilized, auto-tracking antennae, maintaining connectivity as vessels move through footprints of different satellites.
Vessel position data, satellite signal and management status are constantly monitored to determine when satellite handoff is necessary.
As ROSS can support many types of ACUs, the ROAM protocol reduces the complexity and the variations by providing basic parameters required to globally roam across multiple satellite beams.  The ROAM protocol provides uniformity
in implementation of third-party antenna manufacturers' interfaces, while enabling the unique characteristics and proprietary techniques of different manufacturers.
"
The interoperability of the ROAM protocol and the ROSS automation with the Intellian v-Series antennas will enable maritime operators to have maximum bandwidth efficiencies and roaming capabilities
for their satellite-based communications at sea," said
Daniel Enns
,
Senior Vice President Strategic Marketing and Business Development for Comtech EF Data
.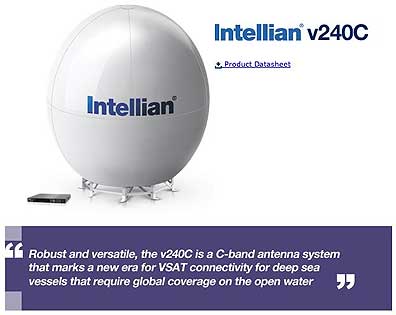 Intellian v-Series stabilized communication antenna systems provide access to high quality satellite communications at sea, even in the roughest weather conditions
.  The open platform design and always on high-speed broadband connection works in conjunction with any SCPC or TDMA network from around the globe.  This system continues with Intellian's philosophy of ease to use, simple and reliable.  The built-in GPS and auto-skew angle control is used to acquire the satellite signal faster and other built-in controls allow users to optimize the signal strength.
Eric Sung
,
president and CEO for Intellian Technologies
commented, "Comtech's market-leading technologies combined with our stabilized antenna systems will significantly enhance communications capabilities for the maritime market."