The Satellite Interference Reduction Group (IRG) has announced that Novella SatComs has become a member of the group.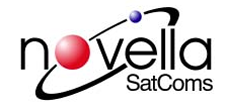 Novella SatComs is an established supplier of high performance RF equipment and solutions for satellite Earth stations and CATV systems. Founded in 1997 by Dr. Ventura Rufino and Bill Dransfield, Novella SatComs is based in the outskirts of Leeds City in the United Kingdom. Over the past 20 years, the company has designed and manufactured a wide range of equipment for satellite stations across the globe, serving many high-profile customers including the BBC, BT and the UK, USA and French MoD's.
Dr. Rufino, CEO, Novella SatComs, commented that satellite interference is a serious issue which looks set to become even harder to solve and prevent and the company looks forward to participating in the group's latest initiatives and events.
Martin Coleman, Executive Director, IRG, added that the only way we can hope to combat the problem of interference is for all those with a stake in the satellite industry to work together as one and quality RF equipment is key. IRG is a great facilitator of this goal.
For more details about membership, please email info@satirg.org.