[SatNews] He sits on many boards, and his expertise is valuable to these institutions.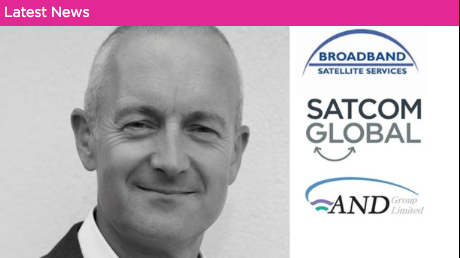 Michael Butler, former Chief Operating Officer of Inmarsat and current board member at Thuraya, has joined Satcom Global and AND Group's parent company, Broadband Satellite Services Ltd (BSS) as Non-Executive Chairman.
Michael brings with him a wealth of senior level insight and operational experience in the Mobile Satellite Services (MSS) market, following a successful career spanning over 20 years in world class technology based companies.
This new appointment will bring extensive market knowledge and expertise to the Senior Management team at BSS, which also recently welcomed Matt Widdall from investment firm BGF to the board as Non-Executive Director.
As President and Chief Operating Officer of Inmarsat from 2000 – 2009, Butler led the satellite network operator as they launched the I4 satellite constellation, introduced a portfolio of broadband services, underwent a leveraged buyout in 2003 as well as a successful IPO on the LSE in 2005, and then subsequently entered the FTSE 100 in 2008. During Michael's tenure at Inmarsat the organisation enjoyed double digit growth, and he now holds Non-Executive Directorships at variety of key players in the MSS market including Thuraya, Addvalue and GeoReach Global.
Ian Robinson, CEO at BSS said, "I am delighted to welcome Michael as our Non-Executive Chairman of the Broadband Satellite Services group. Michael has extensive experience within the industry which will be key as we enter the next important stage of our growth strategy."
Michael Butler, Non-Executive Chairman at BSS, said, "An ambitious long term growth strategy and a refreshingly innovative outlook are key market differentiators for the BSS group. I am excited to join the company as Non-Executive Chairman, and look forward to working with the leadership team to assist in driving the business into the next phase of our strategic plan."
As part of a wider growth strategy, the past year has seen the Satcom Global brand expand into the Russian satellite communications market, and increase their market penetration across Australia with the launch of an additional sales office in Perth.
BSS was formed in 2012 following the management buyout of AND Group, led by CEO Ian Robinson and CFO Financial Director Bob Howes, and the subsequent acquisition of the Satcom Group, one of the world's largest mobile satellite communications providers. Employing more than 200 people globally, the Group is headquartered in Newcastle, with offices in Singapore, Bangkok, Tokyo, Phoenix, Brisbane, Perth, Athens and Moscow.