[SatNews] When it comes to space, dozens of countries now have satellites circling the globe, which requires an eye on the skies due to the dangers posed by falling space debris.
Since the launch of Sputnik in 1957, over 39,000 man-made objects have been cataloged and many of these have already come down. The space surveillance mission falls to the U. S. Strategic Command Joint Functional Component Command for Space (JFCC Space). Through its Joint Space Operations Center (JSpOC), it detects, tracks and identifies all artificial objects in Earth's orbit. JSpOC tracks more than 16,000 objects currently orbiting the Earth.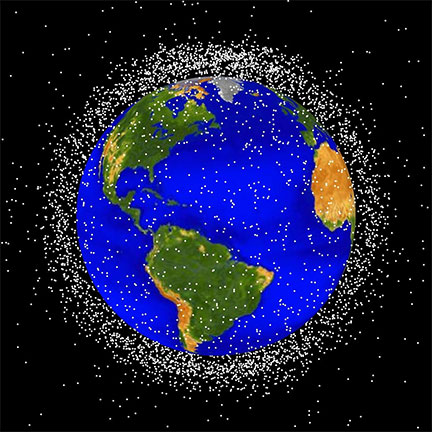 The United States and its allies rely on JSpOC to provide detection and early warning about threats posed by space debris. Accomplishing this mission requires referring to multiple data sources from separate systems, which introduces the possibility for errors. Air Force Space Command recognized the need for an innovative technology to support space situational awareness beyond the existing legacy toolsets and conveyed that need to the Air Force Research Laboratory.

Working with the Air Force under a Small Business Innovation Research award, the Design Knowledge Company—a small business located in Fairborn, Ohio—developed the JSpOC Mission System (JMS) User Definable Operational Picture. The JMS User Definable Operational Picture provides an Agile Work Environment (AWE) tailored to the space domain that combines data from different sources. These include legacy systems, emerging data sources, algorithms that operate on the data, and a variety of visualization, collaboration and work efficiency tools. The JMS User Definable Operational Picture integrates easily into Microsoft Office products and offers the ability to customize the interface.

According to Paul Zetocha, the AFRL program manager, assembling an integrated, common operating picture from disparate data sources for the JFCC Space Joint Planning groups is crucial when responding to high-interest events, such as the uncontrolled reentry of the Phobos-Grunt spacecraft in 2011. "Calculating and communicating trajectory data used to be a time consuming task. Assembling a simple Microsoft PowerPoint slide from the various stovepipes could take up to an hour or more," Zetocha said. "No system prior to the JSpOC Mission System covered all aspects of the mission."
To date, the technology is operational as JMS at Vandenberg AFB, California, and as the Aircraft Repair Visualization and Integration Simulation Support supporting logistics at Warner Robins Air Logistics Complex at Robins AFB, Georgia. "These applications demonstrate that the technology can be used in multiple domains for all situation awareness and command and control applications," Zetocha added. "This technology will provide an enormous cost savings across the Department of Defense."
According to Gen. John Hyten, commander of Air Force Space Command, "JMS represents keys to the kingdom. Given where we were five years ago, that's remarkable. I just didn't think we'd figure out a way to get through but we did. It's awesome. It's spectacular."
As a result, the company was awarded a Phase III contract, worth close to $10 million, to further mature its technology. The enhanced technology, known as VISTA (Virtual Information for Satellite Tactical Applications), delivers actionable information to the warfighter by leveraging data fusion and visualization to compress and encode massive amounts of data and provide access to the fused visualization products "at a glance." The key to VISTA's approach is providing this at-a-glance visualization and comprehension support in a near real-time fashion. With this capability, space warfighters will be able to leverage VISTA to support tactical, as well as strategic, space situation awareness functions.

JMS has been the company's largest continuing project. The core AWE has been instrumental in winning a large amount of associated work, even beyond the technology's space applications, building AWEs for Air Operations Centers that are managed by Air Combat Command in support of its Command and Control mission. The local company also has created versions for a cyber operations center, a nuclear weapons center and an air logistics complex.
The Air Force SBIR and STTR programs are mission-oriented programs that integrate the needs and requirements of the Air Force through research and development topics that have military and commercial potential. The SBIR program was established by Congress in 1982 to fund research and development (R&D) through small businesses of 500 or fewer employees. The STTR program was established in 1992 to fund cooperative R&D projects with small businesses and non-profit U.S. research institutions, such as universities. The Air Force SBIR and STTR programs provide more than $300 million in funding for research and development activities by small businesses annually. With this budget, the Air Force funds research from the early stages of concept development until it transitions to military or commercial use.