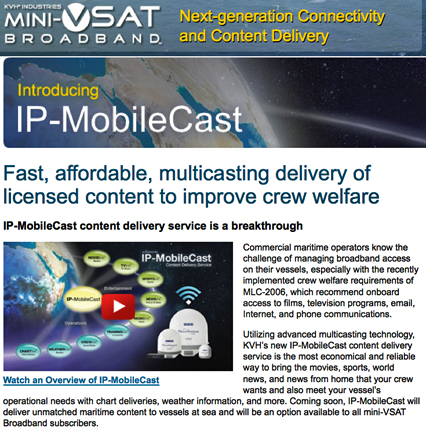 [SatNews] The IP-MobileCast(tm) content delivery service developed by KVH Industries, Inc., (Nasdaq:KVHI) for its mini-VSAT Broadbandsm satellite network is now live, constituting a maritime industry first that will enable seafarers in the middle of the ocean to have affordable access to daily digital newspapers, television news, sports updates, music, new-release blockbuster movies, and TV programs via a multicasting service.
KVH recently completed successful beta testing of IP-MobileCast, and is making the service available immediately to existing mini-VSAT Broadband customers who are interested in subscribing to IP-MobileCast.
The IP-MobileCast service uses multicasting technology to deliver large amounts of content to many ships at once, overcoming the prohibitively high satellite communications costs typically charged to deliver files for individual use. The new service (patent pending) is notable for numerous technological advancements: Content is delivered over the top of the network so there is no charge for the delivery, only for the content itself; the multicasting transmission does not affect the vessel's mini-VSAT Broadband onboard data speed; the service ensures digital rights management (DRM) of copyrighted material, such as Hollywood movies and television programs; and the content is delivered using forward error correction to minimize burden on the mini-VSAT Broadband network.
"The IP-MobileCast service is revolutionary in the richness of fresh content that can be delivered to mariners at sea, who up until now have not had access to updated news, sports, television, or movies onboard their vessels," says Martin Kits van Heyningen, KVH chief executive officer. "Now, mariners in the middle of the ocean can experience an incredible amount of news and entertainment content the entire time they are at sea, and maritime operators can benefit from providing crew welfare services reliably and affordably."
"We're broadcasting football highlights from the games in Brazil, culminating in complete, live coverage on July 13th," says Jim Dodez, KVH's senior vice president for marketing and strategic planning. "We're especially proud to bring globally celebrated special events to mariners at sea, to strengthen their ties to home and family. It's how we interpret the spirit and the letter of the MLC-2006 crew welfare act."
Thousands of hours of beta testing were completed to ensure the IP-MobileCast service can deliver large multimedia files and regularly updated content to a vessel's onboard server, which can then make the content available to nearly all types of platforms on the ship, whether it is a flat screen TV, a computer, or a Wi-Fi enabled personal device, such as a smartphone, tablet, or laptop.
"We can provide content from anywhere in the world to a vessel anywhere at sea, and the user has an experience that is even better than that on land," says Brian Arthur, KVH vice president of product development. "On land, people have become accustomed to viewing entertainment content via a streaming device, which is subject to freezing or interruption. With the IP-MobileCast service, the content is broadcast over the KVH mini-VSAT Broadband network and stored on an onboard server, so everyone watching it is viewing something locally, with no streaming interruptions. The reaction we have had from our beta testing users has been fantastic."
Existing customers of KVH's mini-VSAT Broadband service who have an onboard TracPhone® V7-IP, V11, or V11-IP satellite communications system can immediately request access to IP-MobileCast's daily news and sports content, movie trailers, and television programs through their onboard Integrated CommBox™ Modem (ICM); an over-the-air software upgrade is all that is required. KVH is offering several introductory promotions as part of the launch of the service for both new and existing customers, with details available from KVH's sales offices.
The content available via IP-MobileCast is provided by KVH Media Group, a leading provider of commercially licensed news and entertainment content to the maritime, hotel, and retail industries. KVH Media Group's brands include NEWSlink Print—daily news in more than 60 national editions; NEWSlink TV—12 channels of regional news in native languages and 4 channels of international news in English; MOVIElink - latest release movies from Hollywood and international studios; TVlink - entire seasons of television series; SPORTSlink—daily video clips of key games and sporting events; and MUSIClink—licensed music in a variety of genres. All content is licensed for use onboard commercial vessels, avoiding the potential liabilities for shipping companies that can result from crew members bringing DVDs onboard and sharing them with other crew members in potential violation of copyright laws.