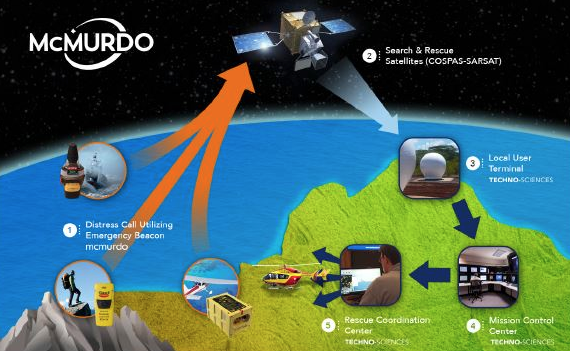 [SatNews] ...solutions to address the maritime industry's need for high-end e-maritime systems that integrate the latest in Maritime Domain Awareness (MDA) and Search and Rescue (SAR) functionality.
Orolia, a specialist in critical Global Navigation Satellite System solutions, and Transas Group, provider maritime simulation, navigation and surveillance systems, today announced that they have signed a Memorandum of Understanding whereby they will jointly develop new solutions to address the maritime industry's need for high-end e-maritime systems that integrate the latest in Maritime Domain Awareness (MDA) and Search and Rescue (SAR) functionality. The new joint solutions will also further protect our waterways and strengthen homeland security by advancing Coastal Surveillance Systems to better protect and leverage assets. Coastal surveillance is demanding in terms of sensor fusion, automatic threat detection and business analytics capabilities, and tends to be controlled by large defense and security integrators. Most of them still need to rely on specialized, established technology providers such as Transas to provide turn-key systems to government customers, and McMurdo Group will add these vital coastal surveillance capabilities to Transas' simulation and training solutions.
Under the terms of the agreement, the two groups will leverage complementary products, state-of-the-art technologies and in-depth expertise in vessel management, asset protection and emergency response to create innovative solutions that continue to save lives and improve operations. Orolia, through its McMurdo Group, provides one of the industry's most comprehensive ecosystems of SAR and MDA technologies including distress beacons, satellite communications infrastructure, emergency and surveillance operations control centers and fleet management software. Transas has established itself as one of the world's leading e-maritime innovators covering the design and implementation of integrated navigational solutions, virtual modeling and augmented reality.
"The maritime industry is in need of leadership to help unite a highly fragmented market that today consists of several custom-built, minimally interoperable systems," said Jean-Yves Courtois, CEO of Orolia. "This collaboration between two established global leaders will contribute to creating a more unified industry, one that is focused on convergence, interoperability and standardization to further improve operations. As part of our overall partner strategy, we are committed to working with leaders such as Transas to pioneer advanced solutions, influence new standards and drive technological innovation for the benefit of the entire maritime community."
While the partnership includes short-term business cooperation initiatives such as sharing product portfolios for broader solution offerings and leveraging sales channels for wider global reach, the primary focus of the agreement is on joint market and solution development for the maritime industry including:
Creating Advanced SAR-enhanced MDA Systems. Adding McMurdo Group's proven beacon technology and COSPAS-SARSAT/MESOAR satellite-based solutions (including mission control and rescue coordination centers)1 to Transas' world-leading vessel traffic management, training and 3D simulation systems can result in higher levels of navigational and safety proficiency. These new offerings will fully integrate emergency preparedness, risk detection, crisis response and emergency operations for activities such as commercial fishing, illegal immigration control and arctic navigation.
Developing Innovative Coastal Surveillance and Port Management Systems. Augmenting Transas' widely-deployed coastal surveillance and port management offerings with McMurdo Group's advanced threat detection2 and web-based fleet management technologies can deliver safer, more secure and efficient solutions for sectors such as port operations, inland waterways, oil and gas, renewable energy and border security.
"The joint initiatives and solutions we have identified thus far are just the start of many collaboration projects between our two groups," said Valery Ermakov, CEO, Transas Group. "As our relationship with Orolia expands, we will continue to serve our existing and prospective customers with offerings that remain on the cutting edge of innovation, functionality and performance. We look forward to jointly educating the market, strengthening our global influence and delivering more value not just in the maritime industry but also in new markets such as immigration control, renewable energy, environmental protection and beyond."
Orolia is a technology group that improves the safety, compliance and efficiency of remote operations by providing business solutions and services based on the most advanced positioning, navigation, timing, sensing, information and communications technologies. Since 2006, the Orolia group has established itself as a leader in Global Navigation Satellite System solutions. In 2014, Orolia announced the creation of McMurdo Group to unite its Positioning, Tracking and Monitoring Division and its Boatracs, Kannad, McMurdo, SARBE and Techno-Sciences, Inc.3 brands. Orolia's headquarters are located in Les Ulis (France). The company also has main offices in Neuchâtel (Switzerland), Rochester (New York), San Diego (USA), Basingstoke (UK), Portsmouth (UK), Guidel and Sophia-Antipolis (France). Orolia has both OSEO "Innovative Company" & "OSEO Excellence" Labels and won French Prime Minister's Bold Creativity Prize (2010) and for two years in a row, the group was awarded third place in the Deloitte Technology Fast 5 (2011 and 2012).
Transas is a developer and supplier of a wide range of advanced software and hardware solutions for transport, oil-and-gas, security, defense and edutainment industries. Transas Group is headquartered in St. Petersburg, Russia, where the company was founded in 1990. Since then, the Group's global presence has grown to include 23 locations worldwide, which successfully supply Transas' products and solutions to over 130 countries. Transas' production facilities are certified under ISO 9001.