[SatNews] Inmarsat (LSE:ISAT.L) will be showcasing its latest technologies used by government departments around the world at IACP Interseg 2014 in Florianópolis, September 9 to 11.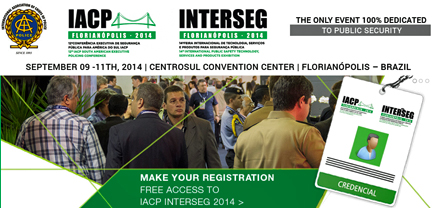 The event, which is organised annually by the International Association of Chiefs of Police (IACP), is the only one of its kind dedicated to public safety in Brazil. The commitment to dependable communications extending throughout the country is essential to ensuring public safety in Brazil. While a substantial investment was made in strengthening Brazil's wireless network in time for the 2014 FIFA World Cup, critical public safety and law enforcement agencies continue to be vulnerable to gaps in their cellular communications infrastructure, which has the potential to undermine their efforts to combat criminal activity or respond to disasters. Inmarsat has been working with government agencies to trial its latest mobile satellite solutions, including the ability to switch between cellular and satellite connectivity to ensure the availability of critical communication services. These solutions, developed for, and used by government agencies to ensure up-to-date situational awareness, have also been shown to reduce costs and increase operational efficiency. With a suite of services that provide mission critical communications across any location or terrain, Inmarsat will be showcasing a range of terminals specifically suitable for Brazilian state security forces.
"By equipping personnel with the means by which to most efficiently carry out their operations, Inmarsat will continue to work with Brazilian security forces to ensure that public safety concerns are addressed; both now and in the future," said Andy Start, president of global government at Inmarsat.
"Having spent a significant amount of time in Latin America and Brazil in recent months, I have had the privilege of engaging in in-depth discussions with government agencies regarding what Inmarsat can do to help public safety and security forces fight the war against crime in the region," continued Start. "Mission critical communications and ensuring the safety of personnel in remote regions is a common issue amongst most operational forces. Inmarsat's satellite voice and broadband data services ensure that teams are never cut-off from headquarters and that the transfer of information from the hotspot mission control is live and reliable."
The suite of products and services that Inmarsat will be displaying at Interseg will range from handheld satellite phones, such as the IsatPhone 2, all the way through to broadband data terminals for use on cars, planes and marine vessels.
Inmarsat infosite: http://www.inmarsat.com/government/civil-government/?proposition=Civil+contingency
Interseg 2014 infosite: http://www.feirainterseg.com.br/