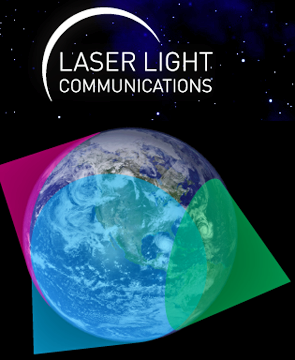 The world's first hybrid optical network from Laser Light Global, LTD, that uses laser technology—known as HALO—is going to establish a global PoP via Equinix (Nasdaq: EQIX) and the latter's DC11 International Business Exchange™ (IBX™) data center in the Washington DC area.

This all optical hybrid global network, when deployed at DC11, will find Laser Light then commencing installation, testing and demonstration of their laser communications and SD-WAN equipment. Once operational, the HALO satellite constellation will offer its Optical Satellite as a Service (OSaaS) - SpaceCable™ services to carriers, enterprises and government customers at Equinix facilities around the globe, providing a seamless all-optical communications system, through its hybrid satellite-terrestrial network, capable of quickly and cost-effectively connecting any two points on the globe with 100 Gbps service links.
Space-based laser communication technology—known as Free Space Optics—stems from 20+ years of civil science and federal investments and deployments by government entities such as Department of Defense (DoD), National Aeronautics and Space Administration (NASA), European Space Agency (ESA) and Japanese Space Agency (JSA) and is now being commercialized for the first time by private firms, such as Laser Light.
The initial deployment in Equinix's DC11 IBX is expected to grow with additional Points of Presence planned around the world, including Equinix facilities in the UK, Japan, Brazil, Australia, the Middle East, and Europe. Equinix is home to 1,400+ networks and 2,500+ cloud and IT service providers on its global platform with 145+ data centers across 40 top markets on five continents, making for a natural partnership for Laser Light's HALO Network.
An Equinix partnership will permit Laser Light to access global facilities, which will aid in its need for interconnection with local and terrestrial fiber infrastructure as necessary to bypass atmospheric interference and deliver its OSaaS directly to their customers.