RBC Signals has signed an integration agreement with Kubos, a provider of end-to-end mission control software — as part of the agreement, the RBC Signals global ground infrastructure network, space communication services platform and customer scheduling software will integrate with Kubos' Major Tom mission control software.
RBC Signals in recent months has rapidly expanded its network, which now encompasses over 60 antennas in over 40 locations. The firm's communication capabilities now span VHF, UHF, S-, C-, X-, Ku- and Ka-bands.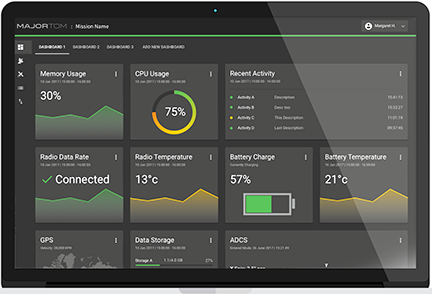 The Kubos Major Tom software allows operators to use the same tool, workflow and processes during development and in operations. Leveraging the power and simplicity of cloud technology, the software intelligently displays data allowing operators to view satellite metrics, as well as the big picture.
Executive Comments
Christopher Richins, the CEO of RBC Signals, said that in RBC Signals' pursuit of being the leading space communications provider, the company is aggressively growing the firm's network infrastructure and technical capabilities. This collaboration with Kubos showcases RBC Signals' desire to enhance the firm's systems and provide greater value for operator customers.
Tyler Browder, the Co-Founder of Kubos, add that by combining the power of Major Tom with the global network of RBC Signals, satellite operators will now have an integrated ground solution. This collaboration brings real value to operators, allowing them to spend more time on the mission and less time on building a ground segment.