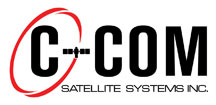 Drew Klein overseas the sales and marketing departments at C-COM and is responsible for the promotion of the iNetVu mobile antenna which, according to the company, is the world's premier commercial auto-deploy, fully motorized VSAT solution.
The sales and marketing team works to promote global sales via a worldwide dealer network and seeks to partner with new resellers who wish to sell and support the iNetVu product. Drew's sales and management expertise stem from nearly a decade in the commodity brokerage business world and sold his business in 2010 to a Chicago-based brokerage firm.

During IBC2019, C-COM displayed...
Flyaway Antenna MP-80-MOT (Motorized Ku/Ka/X Band ManPack) — This is an 80 cm., fully automatic and motorized system. The unit comes in a single case and is very portable and works with the company's new 8000 series controller. This highly portable, multi-segment manpack can be hand-carried by one person and assembled in less than 10 minutes — no tools required.

Driveaway Antenna Ka-75V-KASAT (Ka-Band) — This is the only antenna that Viasat and Eutelsat have approved for use on their systems. The Ka-75V-KASAT can be mounted on the roof of a vehicle for Broadband Internet Access over KA-SAT Tooway services. The system works seamlessly with the iNetVu® 7024C Controller and provides fast satellite acquisition within minutes, anytime, anywhere.

FLY-981 Flyaway Antenna (Ku-Band) – This comes in three cases and it is Ka-band upgradeable. The antenna offers high surface accuracy, offset feed, steel reflector and incorporates a heavy duty feed arm that is capable of supporting up to 5 kg. (10 lbs) RF electronics (LnB and BuC). This antenna is designed to work with the iNetVu® 7710 Controller and works seamlessly with the world's most popular, commercially available Ku modems. With three axis motorization, the antenna also supports manual control, when required. There's a one-button, auto-pointing controller that is able to acquire a Ku-band satellite within two minutes.
Drew said the company is working with some LEO constellations to track their new smallsats and, specifically, they are working with Kepler using the FLY-981, with impressive results. A Fly-74, a 74 cm., fully automatic, motorized Ka-band flyaway) is in use by NSLComm in Israel. C-COM will continue working on ensuring their antennas work with LEO constellations during the coming months/years to keep up with the market demand.
Their longer term goal is to continue to make progress on their electronically steerable Ka-band phased array antenna, according to Drew. This antenna has a unique calibration process that is used to adjust internal phase shifters and amplifiers, which means the antenna can be recalibrated on-the-fly. They have made good progress with the latest 1,000-element antenna and they will be testing it with a LEO satellite in the coming months.
The firm's support team works to keep the 9,000+ units in the field operational. A larg customer support team is not necessary, as their products are so reliable and are also field-serviceable.
C-COM's customers are mainly system integrators, resellers, and distributors who then sell the product to the government, military, oil & gas, broadcasting, emergency responder, and telecommunications industries.
Taking a look ahead at the technologies en route to the industry, Drew believes Non-Geostationary Orbit (NGSO) constellations and phased array antennas are what the market is seeking — customers want lower cost, multi-constellations that are inexpensive and efficient.
C-COM supports customers from every location across the globe and IBC2019 is a superb venue as the event is a great, central meeting point where the firm can meet with current and prospective customers. Drew indicated that IBC is more of a technology show for the company and offers new opportunities for business expansion.
Drew emphasized that C-COM offers high-quality and fairly priced product, and there are many unit variations in stock ready for shipment to customers. Additionally, the company can engage in special integrations and configurable projects and are able and willing to work with customers on their specific requirements to produce a highly reliable solution. As Drew said, price + quality + delivery... C-COM has it all.
About C-COM Satellite Systems
C-COM Satellite Systems Inc. has has sold more than 8,000 systems, in more than 100 countries, through a dedicated dealer network that provides service to a wide range of vertical markets. The Company's iNetVu® brand is synonymous with high quality, reliability and cost-effectiveness. C-COM is in late stage development of a potentially revolutionary Ka-band, electronically steerable, modular, conformal, flat panel phased array antenna technology. The company is engaged in joint cooperation with the University of Waterloo to design this unique antenna such that it can provide low cost, high-throughput mobility applications over satellite for land, airborne and maritime verticals.