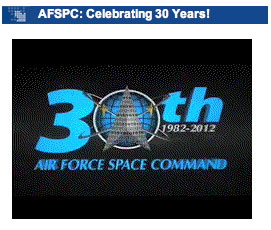 [SatNews] "The foundational capabilities space and cyber bring to the defense of this Nation must be protected."
As a consequence of the pending sequestration, Air Force Space Command conducted detailed planning and is now readying for significant cuts and reductions.
"This budget situation is unprecedented in my 36 years of service," said General William L. Shelton, Commander, Air Force Space Command.  "With no appropriation bill for fiscal year 2013, our ability to plan for FY14 and 15 is even more uncertain."
"What I am absolutely certain of, however," said General Shelton, "is that the foundational capabilities space and cyber bring to the defense of this Nation must be protected.  Not only protected, but as Deputy Secretary of Defense Carter said recently, to support our new strategy, we must also enhance those areas, making substantial advances and investments in space and cyber."    
General Shelton added, "Given the current budget environment, reductions are unavoidable, but space and cyber systems have less flexibility to reduce operations tempo as most of our weapon systems must operate continuously to accomplish the assigned missions for the Nation."  
Air Force Space Command recently provided the Air Force Deputy Assistant Secretary for Budget actions it would be forced to take should sequestration occur on 1 March, 2013.
Reduce some missile warning and space surveillance 24/7 hour operations to 8/7 hour operations, impacting national missile warning, missile defense, space situational awareness, and the intelligence community

Reduce by 75 percent sustainment of an older communications satellite constellation with significant, residual capability; potentially impacting military communications worldwide; likely shortening the on-orbit life of older generation satellites

Suspend Air Force-wide Engineering and Installation (E&I) work plans to include a new control tower, a new instrument landing system, a SATCOM facility, and mass notification system upgrades

Terminate Global Combat Support System-hosted applications to include the following:  Nuclear Weapons Material Tracking Capability and Explosive Ordinance Disposal Management System; losing significant capability

Prioritize and curtail and/or cancel operational
training exercises and international partnership exercises; including many with joint (such as Joint Airlift/Army Airborne Training) and international partners, will be impacted in some way, whether cancelled, scaled back, or postponed

Reduce Professional Military Education and Mission Readiness Training quotas.  This action has a direct impact on Airman promotion eligibility by not meeting the prerequisite to wear the next rank. This significantly impacts the readiness of our Airmen to conduct day-to-day operations

 
"The way America fights today is underpinned by the assets Air Force Space Command provides,"
said
General
Shelton
.  "No matter what size the United States military becomes, our Nation counts on space and cyber capabilities to enable all total force, joint operations, giving us the global capabilities we need."