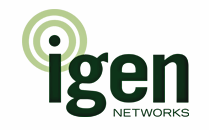 IGEN Networks Corporation (OTCQB: IGEN, CSE: IGN) has successfully certified their Nimbo Tracking, an IGEN Networks Corporation company, for Sprint's IoT Platform.
Nimbo Tracking provides robust wireless M2M solutions that specialize in providing integrated GPS tracking and vehicle warning solutions for various markets including Automotive, Power Sport, Subprime Automotive and Power Sport Finance, Fleet Vehicles, Emergency Vehicles and Law Enforcement.
As part of the certification process, Nimbo Tracking has successfully activated more than 6,500 new car assets on Sprint's IoT Platform within the new car franchise dealership channel nationwide. Following the initial launch, Nimbo Tracking continues to scale and activate in excess of 2,500 new cars per month.