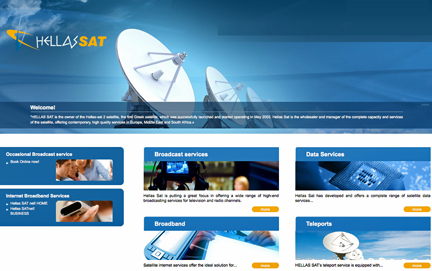 [SatNews] With Hellas Sat now being a Member of the Arabsat Group, the two companies will take advantage of the commercial synergies and have their first joint stand at CABSAT.

CABSAT will allow Hellas Sat and Arabsat to strengthen their commercial presence in their respective core markets of Europe and Middle East as well as use the exhibition as a platform to develop new markets.

Christodoulos Protopappas, CEO of Hellas Sat, said, "Hellas Sat is one of Europe's premier DTH satellite operators with more than 2.5 million households in Central and Eastern Europe enjoying satellite TV from the Hellas-Sat 2 satellite, and we are seeing increasing interest from Middle East TV channels to take advantage of our cost-effective broadcast services in Europe and Middle East. Hellas Sat is planning to launch two new satellites, Hellas-Sat 3 and Hellas-Sat 4 at the orbital position of 39oE, by the end of 2016. These two new satellites will provide Hellas Sat's DTH customers in-orbit backup capacity, as well as expansion capacity across Europe, Middle East and southern Africa, for Hellas Sat's other video and data customers. The joint participation with Arabsat at CABSAT is an important step in driving commercial synergies between our two companies, with many exciting opportunities in the pipeline which will bridge the cultures between Europe and the Arabic World."
Additional Hellas Sat information may be obtained at.