[SatNews] Dedicated to delivering high-speed connectivity anywhere, O3b Networks has launched...
...O3bMaritime, a first-of-its-kind broadband solution capable of providing cruise ship guests and crew with more than 100 times the average Internet access rates at sea. Innovative cruise ship operators will be able to significantly enhance guest satisfaction through fast, affordable broadband connections. In game changing performance unmatched and unrivalled by current and future maritime offerings, O3bMaritime will deliver over 500 Mbps in aggregate bandwidth to a single vessel.
Cruise operators facing increasing competition from luxury shore based resorts no longer need to suffer the performance compromise necessitated by today's maritime connections. Guests can surf, download, work, watch, speak and stream in the same way they do on land, unlocking new revenue opportunities for operators and reinforcing best-in-brand service in all aspects of the cruise experience. The only offshore solution to deploy dedicated steerable beams, O3bMaritime will track a ship's course continuously, optimizing performance for the guests onboard.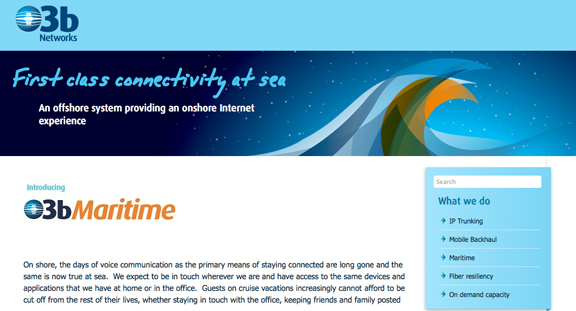 In the competitive world of super and mega-yachts, only O3bMaritime can provide the range of benefits that overwhelm existing satellite based solutions today. O3b's crystal clear voice and 65ms mouth-to-ear latency provides peerless voice quality. From cruise operators to super-yachts and from guest experience to crew welfare, O3bMaritime is redefining connectivity at sea and is now less than one year from launch.