This company provides and supplies VSATs as well as a wide range of RF equipment marketed under the Agilis brand name for telecommunications, government and defence, maritime, oil and gas, broadcast and enterprise applications, and also specializes in the design, development and production of advanced space electronics, satellite buses, EO satellites and other terrestrial sensors and applications—and they just commenced their commercial imagery service of the first, made-in-Singapore commercial EO satellite, TeLEOS-1.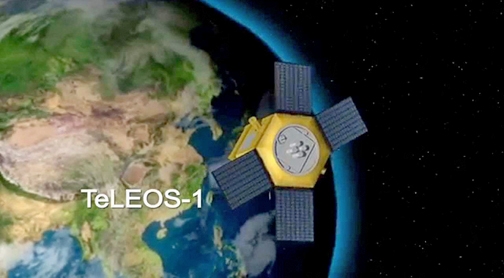 The initiation of services follows an intensive In-Orbit-Test (IOT) of the satellite since the launch of TeLEOS-1 on December 16th, 2015. This significant milestone for the company is quite significant, as one meter resolution with the fastest response from a Near-Equatorial Orbit remote sensing satellite is now being provided.
Singapore Technologies Electronics Limited (ST Electronics) today announced the commencement of its commercial imagery service of the first made-in-Singapore commercial Earth observation satellite, TeLEOS-1, after an intensive In-Orbit-Test (IOT) since it was launched on 16 December 2015. This marks a significant milestone for ST Electronics as this is a world's first commercial imagery service providing one metre resolution with the fastest response time from a Near-Equatorial Orbit remote sensing satellite.
Through the vigorous six-month of IOT, ST Electronics has successfully calibrated and validated the in-orbit performance of TeLEOS-1, covering the Attitude Determination Control System, On-Board Computing System, Flight Software, On-Board Network System, On-Board Recorder, Telemetry and Tele-command system, Payload Downlink system, Electrical Power system, Thermal Control System and Camera Payload. At the same time, the performance of the Ground Control Station was also successfully validated. These successful validations have paved the way for the launch of the new imagery service of TeLEOS-1.
With a mean revisit time of 12 to 16 hours and coverage of the equatorial belt with as many as six daylight imaging opportunities a day, TeLEOS-1 is capable of providing down to one meter resolution panchromatic imagery with a 12 km swath width. In addition to the sales of satellite imagery, ST Electronics will also provide value-added applications covering urban planning and infrastructure management for smart cities, environmental and resources monitoring, humanitarian aid and disaster relief (HADR), maritime security and safety, border and territorial water protection.
In conjunction with the commercialization of TeLEOS-1 imagery services, ST Electronics has entered into a partnership agreement with Defence Science & Technology Agency (DSTA) to jointly acquire and develop imaging systems to support Singapore Government agencies' imagery requirements, such as monitoring of haze hotspots and detection of oil spills. ST Electronics will use these systems to enhance our commercial imagery services with multi-modal and higher responsiveness for its customers.
The company has also signed a distributor agreement with SI Imaging Services (Korea) as well as reseller agreements with SOVZOND Company Ltd (Russia) and Broadstone Technologies (South Africa) for TeLEOS-1 Imagery. Discussion with other reseller partners, such as Airbus DS Geo and several other firms, are in progress. These distributor and resellers will be promoting and selling TeLEOS-1 imagery and value-added applications globally.
To spur the development of new applications and use cases using satellite data, ST Electronics will work with Economic Development Board (EDB) on corporate accelerator programs that will tap into the creativity and vibrancy of Singapore's start-up and research ecosystem. Such a program will connect various parties of the innovation value chain, such as commercial end users, satellite data providers and start-up/research communities, to co-create and commercialize new ideas for new markets using satellite data and exploiting the use of big data analytics.
According to Mr Lee Fook Sun, Deputy CEO & President, Defence Business of ST Engineering and President of ST Electronics, TeLEOS-1 performed well over an intensive six months IOT and offers multi-source, multi-modal, high responsive satellite imagery, which has attracted interests from the firm's international network of re-sellers and distributors. The expectation is that the firm's strategic partnership with DSTA and EDB will strengthen the space ecosystem in Singapore .
www.stee.stengg.com
www.agilissatcom.com