[SatNews] Honeywell Aerospace (NYSE: HON) has signed a contract with Turkish airline SunExpress to supply the company's latest cockpit technologies for its first delivery of newly purchased Boeing 737-800 airplanes.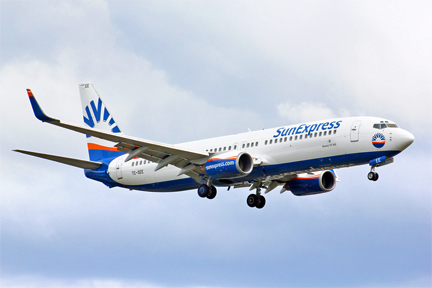 Honeywell will provide SunExpress with cockpit avionics, including the IntuVue 3-D Weather Radar and the SmartTraffic Traffic Collision Avoidance System. With these technologies, SunExpress will be able to increase operational efficiency and maintain compliance with current and future industry safety regulations. Honeywell has witnessed high demand for its cockpit avionics products in 2015. Other low-cost operators, including IndiGo and Southwest Airlines, have recently chosen Honeywell to provide safety and efficiency technologies for their new airplane fleets.
The full suite of Honeywell cockpit technology aboard SunExpress' new Boeing 737 fleet will include:
Quantum Line communication and navigation sensors are Honeywell's proven range of communication and navigation radios. The suite reduces weight, offers improved reliability, and features Honeywell's latest radio altimeter with digital processing technology, a completely new very-high-frequency data radio, and the company's next-generation integrated multimode receiver.
IntuVue RDR-4000 3-D Weather Radar is the first and only automatic commercial radar to present 3-D global weather data over land and water, providing turbulence detection up to 60 nautical miles ahead, predicting hail and lightning weather events, and differentiating and displaying on-path and off-path weather. IntuVue gives pilots a more accurate and holistic view of weather patterns sooner, so they can make turbulence avoidance decisions quicker for improved safety, passenger comfort and fuel efficiency.
SmartTraffic (Traffic Collision Avoidance System) provides the industry's longest-range surveillance capability, plus Automatic Dependent Surveillance-Broadcast (ADS-B) In functionality. SmartTraffic coupled with ADS-B is an advanced hybrid system that offers pilots unparalleled access to traffic information. Compliant with the latest Federal Aviation Administration (FAA) regulatory Change 7.1 requirements, it improves safety and pilot responses to potential airborne traffic conflicts. The SmartTraffic system includes Honeywell's next-generation transponder to meet FAA NexGen requirements.
Mode S Transponder broadcasts information to other airplanes and air traffic control about speed and position, and is also compliant with all current and anticipated ADS-B Out mandates worldwide.
Flight Data and Cockpit Voice Recorders store mandatory voice and data information from an airplane's most recent flight activity. This will be Honeywell's fifth-generation solid state Flight Data Recorder and Cockpit Voice Recorder.
Flight Data Acquisition and Management (FDAMS) combines the mandatory Digital Flight Data Acquisition Unit database functions with the reconfigurable Avionics Control and Management System capability. The primary functions include Digital Flight Data Acquisition, PC-Card Data Recording, Aircraft Condition Monitoring and Reporting, and Wireless Data Download. The onboard processing capability of the FDAMS allows real-time access to airplane data for event detection and reporting.
Aircraft Communications Addressing and Reporting System is the air-ground data link necessary for global communication of vital information, such as Airline Operational Communication and air traffic control messages for commercial airlines.
Executive Comment
"With this agreement, SunExpress will equip new Boeing 737s with some of the industry's most advanced and capable avionics technologies available," said Aileen McDowall, vice president, Airlines, EMEAI, Honeywell Aerospace. "SunExpress is the latest successful low-cost airline to invest in Honeywell's avionics technologies to drive down costs while maximizing passenger safety and comfort."