Integrasys has delivered their link budget tool, Beam Budget, to the flat panel antennas manufacturer company, Kymeta.
Kymeta is a specialist in establishing and delivering robust, mobile connectivity through both its products and satellite connectivity data packages.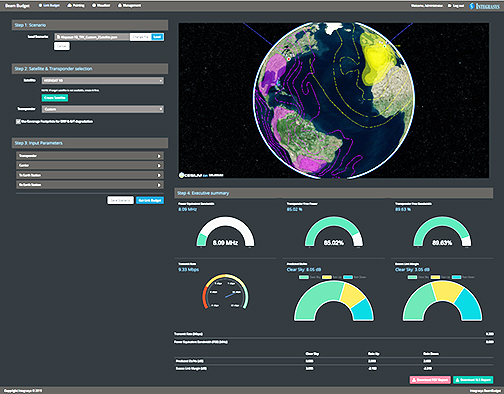 Beam Budget allows Kymeta staff to access highly accurate link budget calculations quickly, allowing them to easily select the most suitable satellite networks for their customers. Beam Budget drastically reduces the complexity surrounding link budget calculations. It makes it simple for anyone to perform link budget calculations, which are a vital way of accounting for gains and losses on any given satellite link.
The results are displayed in an easy-to-understand format and can be exported as excel and pdf reports as required and customized with the user logo and information. Accessibility to link budget calculations improves the network selection process whilst providing customers with tangible reports to evidence the benefits of the network selection.

Beam Budget is used by satellite operators and service providers when establishing new satellite networks or quoting for new business. Additionally, it can be used by satellite customers, providing them the peace of mind knowing that the service quoted will be the correct choice.
Richard Hadsall, Vice President of Global Network Operations, Kymeta, commented that selecting the correct satellite network allows us to deliver the best connectivity to our customers. Previously, calculating link budget has been a time-consuming process which has only been performed by designated specialist professionals. Beam Budget provides our sales team with quick and easy access to highly accurate results, even when on-site. This allows us to deliver an efficient and comprehensive service to our customers.
Alvaro Sanchez, CEO, Integrasys, said it's fantastic to see Kymeta is improving efficiencies from using the Beam Budget tool. The tool makes link budget calculations accessible for anyone within the organization, as well as making it easy for stakeholders to understand network selection. By making satellite selection easier, Kymeta can improve efficiency while maximizing return on investment and materializing new business with users not yet in the satellite arena.