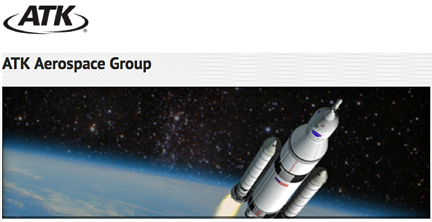 [SatNews] Integrated ATK (NYSE: ATK) products enabled the successful launch of the United Launch Alliance (ULA) Atlas V vehicle and the GPS satellite launched from Cape Canaveral Air Force Station, Florida.
Now in Medium Earth Orbit (MEO), approximately 11,000 miles above the Earth, the eighth GPS IIF satellite in the constellation will replace older, first-generation GPS satellites and provide improved accuracy, signal strength and quality to America's warfighters, allies and civilian users worldwide. Boeing (NYSE: BA) designed and built the GPS IIF satellite for the U.S. Air Force.
"The Atlas V and GPS programs encompass the scope and scale of ATK's highly engineered products and affordable innovation," said Blake Larson, President of ATK's Aerospace Group. "Both military and civilian GPS users around the world will benefit from increased capability as a result of our team's collective dedication and execution excellence."
The ATK components, in the Atlas V launch vehicle and satellite, use the latest, cutting-edge technology across multiple ATK facilities. These include large composite structures, retro motors, state-of-the art solar arrays and other critical components on the GPS IIF satellite. For the ULA Atlas V rocket, ATK produced the 10-foot diameter composite heat shield, which provides higher performance with lower weight, and essential protection for the first stage of the launch vehicle from engine exhaust temperatures in excess of 4,000 degrees Fahrenheit. The assembly was fabricated using advanced fiber placement manufacturing techniques at ATK's Iuka, Mississippi facility. This is the 50th Atlas V launch using ATK-built composite structures. This launch also marked the 16th successful flight of ATK-produced retro motors. Eight of these solid motors supported separation of the spent first stage. The Atlas retrorocket is built at ATK's Missile Defense and Controls facility in Elkton, Maryland.
The Block IIF series will replace the GPS Block IIA satellites that were launched between 1990 and 1997. The IIF space vehicles provide improved accuracy, enhanced internal atomic clocks, better anti-jam resistance, a civil signal for commercial aviation and a longer design life. The GPS IIF-8 satellite provides space-based system global location and time information in all weather conditions. For the GPS IIF-8 satellite, ATK provided a host of products and services. ATK's Goleta, California, facility designed and manufactured the satellite solar arrays and a deployment boom. ATK has achieved 100 percent on-orbit success on all solar arrays and deployable systems delivered and launched to date. ATK's San Diego, California facility manufactured the composite solar array substrates. ATK's Commerce, California facility had responsibility for the ullage tank assembly, including the blankets, heaters, thermistors and pressurant lines. This tank is a spherical vessel constructed of titanium.
ATK's Beltsville, Maryland facility provided heat pipes for the GPS IIF equipment and radiator panels. The company has delivered more than 50,000 heat pipes to the space industry with perfect on-orbit mission success record. ATK's Rancho Bernardo, California facility performed final assembly and RF (Radio Frequency) testing of the antenna suite for GPS IIF between 2003 and 2010.
ATK is an aerospace, defense, and outdoor sports and recreation company with operations in 21 states, Puerto Rico, and internationally. News and information can be found on the Internet at http://www.atk.com/