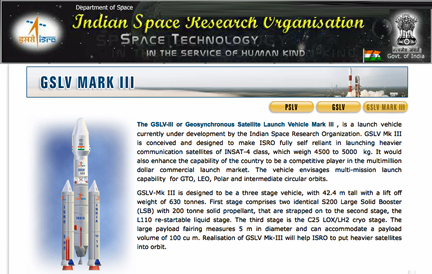 [SatNews] Xinhaunet is reporting that India will test launch an advanced rocket next month, according to a senior Indian space official.
"The state-owned Indian Space Research Organisation (ISRO) will test launch GSLV Mark III from the spaceport of Sriharikota in the southern state of Andhra Pradesh between December 15 and 20," the source said, on condition of anonymity. "The test launch is to ensure the atmospheric stability of the launch vehicle. If the test launch is successful, then ISRO will not have to depend on France to put its bigger satellites into orbit," he added.
The rocket will be a landmark for the space agency, the official added.
The ISRO GSLV MARK III infosite may be accessed at http://isro.org/Launchvehicles/GSLVMARKIII/mark3.aspx