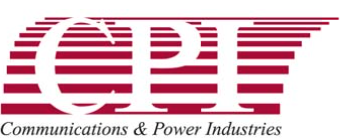 The Radant Technologies Division of Communications & Power Industries LLC (CPI) provided the radome included in the FAA-approved Supplemental Type Certificate (STC) recently received by ViaSat, Inc. for the Airbus A320 aircraft. Certification on the Ku-/Ka-band radome is a significant milestone, as it has met all airworthiness requirements.

This radome will be fully compatible across all ViaSat satellite network operations, including aircraft served by ViaSat-1, ViaSat-2 and ViaSat-3. It is also fully compliant with Wideband Global SATCOM system (WGS) operations across its entire spectrum. This radome has been in production for more than one year, supporting a number of commercial and governmental programs. See CPI's September 16, 2014 press release for more information.
"This achievement demonstrates CPI Radant Technologies Division's continued leadership in airborne wideband radomes for satellite communications," said Dr. Jean-Claude Sureau, technical director of CPI Radant Technologies Division.
http://www.airbus.com/aircraftfamilies/passengeraircraft/a320family/a320/