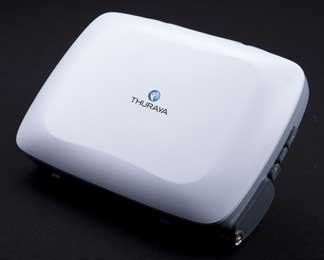 [SatNews] Versatile and cost-effective, Thuraya introduces Thuraya IP the smallest practical broadband solution.
Thuraya IP is A-5 sized and weighs a mere 1,300 grams (13.85 ounces) providing portability.
As satellite data services have become a major driving force in the communications world today, Thuraya Telecom Co. has ensured that its satellite broadband offerings are highly cost-effective and meet different demands.
"
Thuraya IP has attractive airtime packages for both pre-paid and post-paid ensuring significant cost-savings for its end users.
We provide unlimited usage packages for pre-paid and post-paid use of the terminal, which leads to dramatically reduced costs," said
Thuraya's Senior Manager Product Management
, Mr.
Rashid Baba
.
In addition, Thuraya IP is the only satellite broadband solution that provides
asymmetric streaming capabilities, which allows users to control their upload and download streaming bandwidths contributing to significant savings
, a particularly useful feature for vertical industries, such as the broadcast sector.
"If customers are able to control their streaming speeds
they can select a high bandwidth for streaming videos from the field for example. If on the return path however the bandwidth required is low, then the user is only charged accordingly
, reflecting in how much they are billed for the service," elaborated Mr. Baba.
Thuraya IP was the world's first satellite broadband solution to
achieve 384 kbps streaming speeds and it provides Standard IP at 444 kbps
. The device is supported by an advanced network that automatically allocates resources in areas where there is high demand ensuring reliability of service.
The solution has generated interest from several market segments such as government, oil and gas, broadcast media, military, NGOs and individual users.