This Unmanned Aerial System (UAS) was vetted in some pretty tough maneuvers and passed the test. Globalstar, Inc. (NYSE:GSAT) and its partner, ADS-B Technologies tested the operation of the ADS-B Link Augmentation System (ALAS) on the Cirrus SR22 Unmanned Aerial System (UAS) Surrogate at NASA Langley Research Center.
Initial results indicated continuous communication between the aircraft and Globalstar's satellite system with only brief interruptions during extreme maneuvering, which reconnected quickly. The Cirrus SR22 test flights focused on testing the ability of ALAS to continuously pass two-way data between the aircraft and NASA's ground control station using remote control capabilities.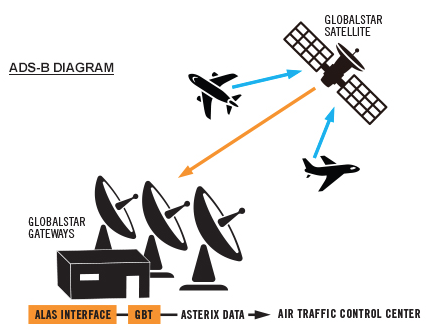 The first of two 40 minute flights included extreme maneuvering with two 60 degree bank angle turns specifically designed to test the ALAS connection. The second flight produced similar results during a series of maneuvers involving heading and altitude changes.
Skip Nelson, President of ADS-B Technologies said, "NASA not only demonstrated that ALAS could perform well in maneuvers, but also confirmed that complex data such as flight control commands and aircraft state and status could be passed to a controller over the same robust Globalstar link in real time. This tells us that ALAS could provide a single, secure and potentially encrypted portal between the aircraft and the ground."
ALAS is a simple, low cost peripheral that is designed to pass real-time one second ADS-B reports over the horizon to ADS-B ground stations from aircraft operating in remote and oceanic areas. The system is compatible with virtually any ADS-B avionics installation. It also does not interfere with the aircraft's normal ADS-B transmissions to terrestrial ground stations.
Jay Monroe, Chairman and CEO of Globalstar added, "We are pleased to see ALAS perform well under the scrutiny of NASA level testing. ALAS is a reliable, economical flight tracking solution and we look forward to our continued work with aviation interests such as NASA to further leverage this innovative technology."