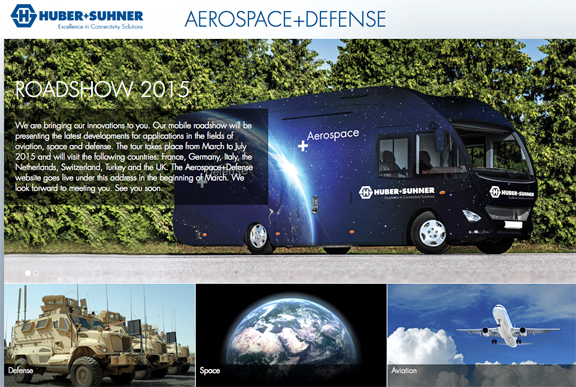 [SatNews] Global connectivity supplier HUBER+SUHNER is launching new cable assemblies designed for the space, defense and test and measurement markets at the International Microwave Symposium in Phoenix, Arizona, from May 17th through the 22nd.
The company will unveil its new flexible 'bend-to-the end' high performance minibend range of cable assemblies, including the high radiation resistant, minibend HBR, which offers a frequency range up to 90 GHz and the minibend CTR phase invariant cable assemblies, developed for phase critical applications requiring both matched and stable electrical length connectivity.
With a history of significant contributions to the military, space, test and measurement, medical and other electronic industries under its belt, HUBER+SUHNER is well placed to demonstrate its extensive expertise in RF and microwave applications at the International Microwave Symposium show next week. Based in the US with HUBER+SUHNER INC and HUBER+SUHNER Astrolab, the company has produced an extensive portfolio of high-density interconnect solutions that incorporate precision performance, high reliability and open source technology.
The company will also be showcasing its ultra lightweight, high radiation resistant microwave coaxial cable assemblies designed for the space and defense market, the SUCOFLEX 300 series, along with the SUCOFLEX 200 series, developed for dynamic applications in the defense and test and measurement markets, including loss revolution for dynamic applications.
BJ Lyman, HUBER+SUHNER's Space and Defense Market Manager, said, "As the industry moves towards higher operating frequencies, smaller components and higher density packages, we are continuously developing new ranges to meet these growing demands for high-density interconnect solutions."
Visitors to International Microwave Symposium 2015 can discover more about HUBER+SUHNER's range of solutions at Booth No.: 3647.