[SatNews] Boeing [NYSE: BA] is completing the first tests of military Ka-band service available through the Inmarsat-5 F2 commercial communications satellite, part of Inmarsat's Global Xpress network.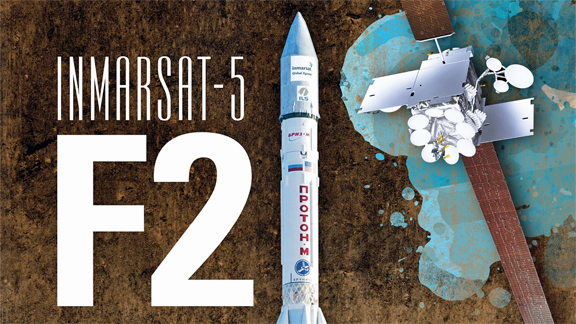 The demonstrations to securely transmit high-data-rate information have involved ten major U.S. Department of Defense customer groups on fast-moving platforms and with users at multiple locations. Among these tests has been the successful sending and receiving of real-time high-definition video through rotating blades on military helicopters equipped with SATCOM capabilities.
The tests showed the capabilities of the Inmarsat Global Xpress network through its F2 satellite in handling data up to 30 megabits per second—higher than previous industry tests on rotorcraft—without signal distortion or loss. Other tests on mobile terminals showed how high-speed data can be transferred without degradation even in poor weather conditions and on terminals measuring as small as eight-by-eight inches.
The demonstrations have taken place along the East Coast since May and will continue through the end of July, allowing customers to test capabilities that will be available when Inmarsat-5 F2 becomes fully operational over the Atlantic and the Americas. These services are available in Europe, the Middle East, Africa and Asia through the Global Xpress Inmarsat-5 F1 satellite, and will be available over the Asia-Pacific region following the launch of the third Global Xpress spacecraft. The tests have also proven Global Xpress compatibility with the Wideband Global System (WGS), the primary communications architecture for DoD satellite communications.
The Global Xpress network includes the Inmarsat-5 F1 satellite, which has been successfully providing wideband connectivity to U.S. government users across Europe, the Middle East, Africa and eastern Asia since last July. The second Inmarsat-5 F2 satellite was launched Feb. 1, and the third Inmarsat-5 F3 satellite is ready for launch later this year. The on-orbit fielding of the three satellites will complete the Global Xpress Inmarsat-5 constellation, providing worldwide high-throughput wideband capability.
BCSS and its service providers offer end-to-end commercial satellite communications solutions to the U.S. government and other satellite users through multiple contracts with U.S. government customers.
Executive Comment
"These tests show users how they can seamlessly switch in the field between Inmarsat Global Xpress and WGS signals," said Jim Mitchell, vice president of Boeing Commercial Satellite Services (BCSS), which is authorized to re-sell Global Xpress capacity. "The tests also demonstrate how high-speed data and video can be transferred securely with anti-jam protections in adverse environmental and weather conditions."
Boeing has also successfully demonstrated a digital version of the Global Positioning System (GPS) III navigation signals, a breakthrough that could contribute to significantly modernizing this vital service.
This advancement overcomes the limitations of current GPS analog payloads in combining multiple signals and accommodating future requirements. It also has fewer components, weighs and costs less, is simpler to integrate and test, and is able to incorporate future signals.
Boeing is developing the digital waveform generator in support of a U.S. Air Force solicitation for GPS III alternate sources. The demonstration validated that the basic GPS signals can be generated digitally in different code combinations with variable power levels and meet stringent signal requirements.
Boeing has designed and built four generations of GPS space vehicles that have provided more than 540 years of on-orbit service. The company is completing delivery of the GPS IIF fleet of 12 space vehicles for the U.S. Air Force.
Executive Comment
"Our investment in GPS digital payload technology builds on a track record of more than 40 other satellites launched with digital payloads and expands our commitment to making the U.S. GPS constellation the best that it can be, not just today, but 20 years from now," said Dan Hart, vice president, Boeing Government Space Systems.