Space Systems Loral (SSL) provided a two-axis gimbal mechanism for NASA's Raven flight demonstration, which was delivered to the International Space Station on the 10th SpaceX Cargo Resupply Mission.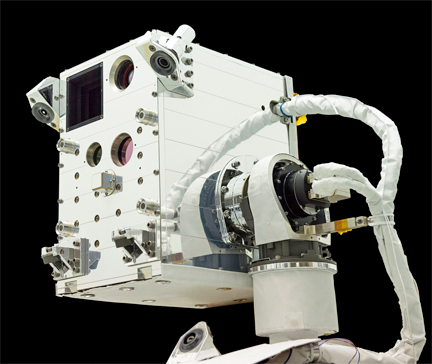 Developed by NASA's Satellite Servicing Projects Division, Raven will help the agency test key elements of a real-time spacecraft relative navigation system that will help to enable spacecraft servicing and rendezvous missions. Raven will use the two-axis gimbal mechanism to point its Rendezvous and Proximity Operations sensors at visiting vehicles as they make their approach to dock with the International Space Station. The gimbal is based on SSL's heritage Dual Access Positioning Mechanism, which is used to deploy and position reflectors, antennas, and electric thrusters on the SSL 1300 platform. Once integrated with the International Space Station, the Raven payload will be tested over a two-year period.
SSL was selected by NASA and DARPA to partner on satellite servicing programs in both Low Earth Orbit (LEO) and Geosynchronous Orbit (GEO), and the company is also developing technologies for satellite self-assembly on orbit. Raven is expected to help NASA develop off-the-shelf relative navigation capability for future rendezvous missions, including satellite servicing and repair missions, asteroid exploration, and human exploration of the Moon, Mars and beyond.
SSL is contributing to a variety of next generation U.S. government missions, including the Restore-L mission for NASA's Goddard Space Flight Center, which will demonstrate satellite servicing in LEO; NASA's Discovery Mission to explore the metal asteroid called Psyche; and the Dragonfly program for NASA and DARPA, which will demonstrate on orbit satellite assembly.

Rich White, senior vice president of Business Development, Government Systems at SSL, stated that mastering complex in-space robotic manipulation of satellites is fundamental to the security of our nation's current satellite fleets and deployment and maintenance of future space architectures—SSL's contribution to Raven is another example of a technology that will help mature satellite servicing capability.