[SatNews] Upcoming is a complimentary webinar, courtesy of...
... Euroconsult and The Hosted Payload Alliance. The Webinar will occur on October 9th, 2012, starting at 11:00 a.m. EDT. Entitled Unleashing the Potential of Hosted Payloads, the invited panelists include...
Don Brown—Vice President, Business Development, Intelsat General
Dave Anhalt—Vice President, U.S. Government Services, Space Systems/Loral
Don Thoma—Chairman of the Hosted Payload Alliance, Executive Vice President at Iridium, President & CEO of Aireon LLC
Colonel Scott W. Beidleman—Director, Development, Planning, Space & Missile Systems (SMC) Los Angeles Air Force Base
This events moderators include Ms. Susan Irwin, President of Euroconsult US and Mr. Nathan De Ruiter, Contributing Author of Hosted Payloads: The View From Within, Senior Consultant at Euroconsult.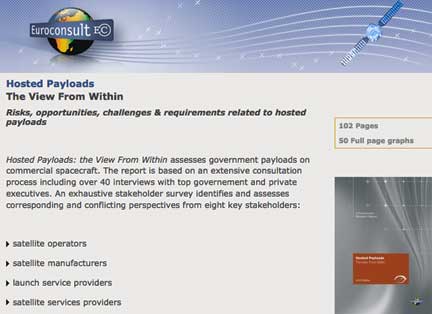 This webinar will present the key findings of Hosted Payloads: A View From Within, a comprehensive analysis of the current and future status, trends and opportunities for government payloads riding on commercial satellites, recently published by Euroconsult. The webinar will feature a live panel discussion with leading participants from government and industry. Although the hosted payload concept dates back to the early seventies, it has only recently turned into a hot debate. Leading industry players such as Intelsat, SES, Boeing, SS/L, Astrium and Iridium have heavily promoted their hosted payload capabilities. Additionally, industry associations such as the Hosted Payload Alliance have been established to augment awareness on the benefits of hosted government payloads on commercial satellites. Driven by budget constraints, government agencies throughout the world are increasingly open to adopting the hosted payload concept. As a result, the requirements for government and industry related to hosted payloads are converging.
Despite industry and government efforts, only 10 payloads are currently under contract and expected to be launched before 2015. Especially in North America, a large number of initiatives are under discussion, however, still awaiting for the commitment of leading government agencies. In our webinar, we will address the question of "Unleashing the Potential of Hosted Payloads." The panel will comment on the key challenges and highlight methods to mitigate these challenges. The webinar will close with a live question and answer session.
We recommend you register today at this direct link.