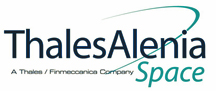 [SatNews] Thales Alenia Space will construct a powerful telecommunications condominium satellite, Inmarsat S – Europasat / Hellas-Sat 3, for Inmarsat and Hellas-Sat—the satellite will provide Mobile Satellite Services (MSS), Fixed Satellite Services (FSS) and Broadcast Satellite Services (BSS).
The MSS payload is designed to deliver an S-band service across all 28 member states of the European Union; the FSS/BSS coverage zones are Europe, Middle East and Southern Africa (EMESA). The Inmarsat S – Europasat payload will offer enhanced mobile services across Europe through a hybrid network, which combines S-band satellite services with a Complementary Ground Component (CGC) infrastructure. Inmarsat S – Europasat will serve the aviation passenger connectivity services, as well as the safety services for Public Protection & Disaster Relief (PPDR) all over Europe. The Hellas-Sat 3 payload will deliver DTH and Telecom services in its designated coverage areas, maintaining and expanding Hellas-Sat business reach with additional capacities.
As program prime contractor, Thales Alenia Space is in charge of the design, production, testing and On Ground Delivery (OGD) of the satellite. The company will also take charge of the launch campaign, and will support the customers for the Launch and Early Operations Phase (LEOP) and In-Orbit Tests (IOT).
Built on the Spacebus 4000 C4 platform from Thales Alenia Space, Inmarsat S – Europasat / Hellas-Sat 3 will deliver a multi-beam mission in S- and Ka-band for Inmarsat, as well as a powerful Ku/Ka-Band mission of 44 Ku- and 1 Ka-band transponders for Hellas-Sat. The satellite will weigh about 5.9 tons at launch and will offer payload power of about 12.3 kW. Inmarsat S – Europasat / Hellas-Sat 3 will be positioned at 39 degrees East.
"This will be the 79th Spacebus satellite made by Thales Alenia Space and the fourth telecommunications satellite contract announced by the company since the beginning of the year. It will feature a very flexible pan-European Mobile Satellite Service Mission for Inmarsat in the S band, and a powerful Ku-band payload for Hellas-Sat, for telecommunications and TV broadcast services," said Jean Loïc Galle, CEO of Thales Alenia Space. He added, "The culmination of this development agreement for a shared satellite is the result of many months of fruitful joint work by Thales Alenia Space, Inmarsat and Hellas-Sat to determine the best technical and business oriented solution for these two missions".

Rupert Pearce, CEO of Inmarsat, said, "Inmarsat is delighted to work with Thales Alenia Space and Hellas-Sat to create an advanced satellite which will boost in-flight connectivity and the provision of safety services across Europe. Thales Alenia Space's innovative approach and partnership has been a major contribution to the success of S-Band provision in Europe."

Christodoulos Protopapas, CEO of Hellas-Sat , said, "Hellas-Sat will continue to develop the location 39 degrees East to be the leading DTH hotspot in Europe, Hellas-Sat 3 will cater for additional capacities and services for HD and free to air channels and will guarantee additional room for our existing customer base to grow. Hellas-Sat will provide to its customers extensive redundancy and backup capacities to further secure DTH networks and customer base and guarantee the sustainability of the business and provide competitive advantage to its customers in Europe and other areas. "
Khalid Balkheyour, President & CEO of Arabsat, Chairman of the Board of Directors of Hellas-Sat said: "This agreement represents the first milestone in fulfilling our commitment to our shareholders to capture additional growth opportunities, especially after the acquisition of Hellas-Sat . Hellas-Sat 3 also represents our commitment to Hellas-Sat's existing and loyal customers and partners in protecting, maintaining and expanding their business and continue to establish 39deg E as one of the leading DTH hotspots in Europe.
The Thales Alenia Space infosite may be reached at https://www.thalesgroup.com/en/thales-alenia-space
The Inmarsat infosite is accessible via http://www.inmarsat.com/
For more information regarding Hellas-Sat, please visit http://www.hellas-sat.net/