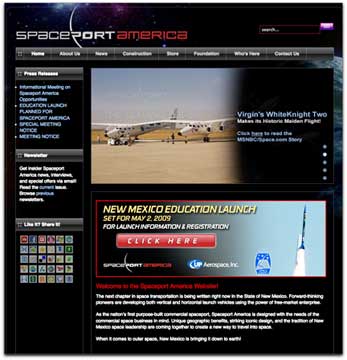 Spaceport America and the New Mexico Space Grant Consortium will conduct their first joint annual educational launch from Spaceport America on May 2nd.
The historic launch, funded by the
International Symposium for Personal and Commercial Spaceflight
(
ISCPS
), will use an
SL-3
launch vehicle provided by
UP Aerospace
. The launch vehicle will carry 11 multi-sensor experiments designed and created by students from New Mexico schools.
Spaceport America
is providing the rocket and launch facilities.
New Mexico Space Grant Consortium
at
New Mexico State University
, with proceeds from
ISPCS
, developed the program that funded two university classes, three community college classes, and five high school classes to build electronic experiments over the past academic year. The launch is open to the public. However, those interested in witnessing the event in person must RSVP online at
http://spaceportamerica.com
or by calling (575) 373-6110. Held October 21 and 22 in Las Cruces, New Mexico, USA,
ISPCS
is organized by the
New Mexico Space Grant Consortium
, a member of the
National Space Grant College and Fellowship Program
, administered by NASA.